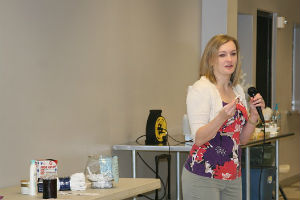 Leah Belcher, Pharmacist with Elkton Family Pharmacy, offered a first for 23 East Rockingham Senior Center members on April 29: Pharmacy BINGO! Ms. Belcher asked multiple questions and had pre-printed paper with the answers on them so that players could mark the answer if it was listed on their sheets.
Some of the questions included: "What is the vaccine for shingles?" "What are the types of Durable Medical Equipment?" and "What Class Drugs are available without a prescription?"
The bonus for those who called BINGO was an array of prizes from packages of socks to a portable first aid kit, all of which were very much appreciated by the recipients.
Ms. Belcher has visited the ERSC on a few occasions, always offering useful tips to keep us healthy!
More online at www.EastRockinghamSeniorCenter.org.