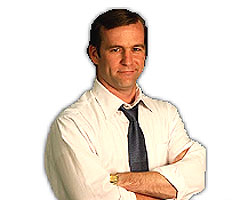 Sixth District Libertarian candidate Stuart Bain talked with beer connoisseurs at Microfestivus in Roanoke over the weekend, and a chief topic of discussion was Virginia Gov. Bob McDonnell's plan to get the Commonwealth out of the liquor business.
"I think it's a step in the right direction, but it doesn't go far enough," Bain told one attendee.
Bain believes the current laws overregulate alcohol production and sales and are prohibitive to a successful free market economy. He told one brewer that microbreweries are being "shackled by the chains of Big Government regulators."
"It's hard enough starting a small business," Stuart told one restaurant owner. "Now imagine starting one where you must constantly battle both the state and federal governments."
Bain, who is challenging Republican incumbent Bob Goodlatte in the Sixth District race, also issued through his campaign a news release on Monday on the topic of Social Security. In the release, Bain compared Social Security to something Bernie Madoff was arrested for, stating that the federal government is "stealing money out of the Social Security 'trust fund' to pay for all these stupid programs."
More on Social Security from Bain.
 
Edited by Chris Graham. Chris can be reached at [email protected].