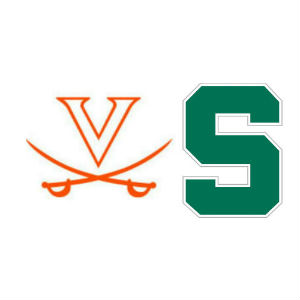 UVa. fans already know plenty about Michigan State. For starters, that Michigan State (28-8) is supposed to beat the top-seeded 'Hoos on its way to the national championship. President Obama is among the 13.7 percent of the more than 5.1 million brackets in the ESPN Tournament Challenge picking State to go all the way.
(UVa. is the pick on 3.9 percent of the ballots, er, brackets.)
For what it's worth, that put UVa. eighth on the Top 10 list from the ESPN-iverse. Three teams ahead of the Cavs on the list, Wichita State, Duke and Kansas, are already gone, so there, right?
Florida was the most popular pick to win the title (27.6 percent).
Back to Michigan State: yeah, they're good, but are they that good?
A look at the Spartans-Cavaliers matchup:
RPI
UVa. 9, Michigan State 18
Record vs. RPI Top 25/50/100
UVa. 3-3/5-4/13-6
Michigan State 4-5/7-6/12-8
Common Opponents
North Carolina (Michigan State 65-79 L, Dec. 4, UVa. 76-61 W, Jan. 20)
Wisconsin (Michigan State L 58-60 Feb. 9, W 83-75 March 15, UVa. L 38-48 Dec. 4)
Virginia Tech (Michigan State 96-77 W Nov. 22, UVa. 65-45 W Jan. 25, 57-53 W Feb. 18)
Key Players
UVa.: Malcolm Brogdon (12.6 ppg, 5.4 rpg, 2.7 apg, 41.8% FG, 36.5% 3FG), Joe Harris (11.8 ppg, 2.3 apg, 44.1% FG, 40.5% 3FG), Anthony Gill (8.8 ppg, 4.1 rpg, 59.8% FG), Akil Mitchell (6.9 ppg, 7.0 rpg, 57.2% FG)
Michigan State: Gary Harris (16.9 ppg, 42.4% FG, 35.2% 3FG), Adreian Payne (16.6 ppg, 7.3 rpg, 51.5% FG, 43.8% 3FG), Keith Appling (11.7 ppg, 45.5% FG, 37.0% 3FG), Branden Dawson (11.0 ppg, 8.3 rpg, 62.1% FG)
Team Stats
UVa.: 66.4 ppg offense/54.0 ppg defense, 45.6% FG offense/38.8% FG defense, 38.3% 3FG offense/29.7% 3FG defense, 34.0% offensive rebounds/72.9% defensive rebounds/53.5% rebounds overall, 58.2% assist/FG offense, 50.5% assist/FG defense
Michigan State: 72.5 ppg offense/65.9 ppg defense, 46.6% FG offense/42.0% FG defense, 41.4% 3FG offense, 36.4% 3FG defense, 32.9% offensive rebounds/73.7% defensive rebounds/53.3% rebounds overall, 61.8% assist/FG offense, 51.5% assist/FG defense
Efficiency Stats
UVa.: 1.12 points per possession offense (ACC: 2nd), 0.91 points per possession defense (ACC: 1st)
Michigan State: 1.13 points per possession offense (Big 10: 3rd), 1.02 points per possession defense (Big 10: 3rd)