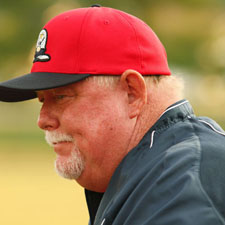 Legendary Valley League baseball coach Mike Bocock is stepping aside as the head coach of the Waynesboro Generals after leading the team to the 2013 VBL championship.
Bocock led the Generals to their fifth Valley League title in his first season at the helm in Waynesboro, and his 25th overall in the league. It was Bocock's eighth VBL championship, to go along with 12 regular-season championships.
Bocock notched his 600th win as a Valley League coach on July 16 with a 6-0 win over New Market. Bocock began his VBL career in New Market in 1988, and won championships in New Market, Staunton, Covington and Luray in addition to his title season in Waynesboro.
"This one was the most memorable because I was able to do it with Tyler being here and being a big part of what we were able to accomplish," said Bocock, whose son, Tyler, was the starting shortstop for the Generals in 2013, and was a second-team All-Valley League selection, hitting .311 with a home run and a team-leading 23 RBIs for the champs.
Tyler Bocock is a rising junior at Stetson University, and Mike Bocock cited a desire to be more available to watch Tyler play his junior season and be free in the event that his son hears his name called in the 2014 Major League Baseball Draft.
"Tyler has loyally followed me throughout my VBL career. This gives me an opportunity to follow him," Bocock said.
Bocock will keep himself plenty busy as well with his Shenandoah Valley Baseball-Softball Academy in Bridgewater, which offers specialized instruction to baseball and softball players from across the Valley and Western Virginia.
SVB-SA will be in charge of summer camps for the Generals next summer, as it was in 2013. Bocock will also join Chris Graham on the Generals' WSVA Valley League Game of the Week broadcasts in 2014 as a color commentator and analyst.
Bocock will assist the organization in its search for a new coach and staff. That effort is being headed up by two young but also veteran members of the Generals organization. David Gauldin III, a rising senior at Eastern Mennonite University, has been named director of baseball operations, and Tyler Hoffman, a rising senior at Bridgewater College, will serve as general manager.
Each played for Bocock in the youth baseball ranks, and each has been part of the Generals organization for the past four summers, in duties ranging from ticket sales to game-day and baseball operations.
"It won't be easy to replace Mike Bocock, but we have two young men, in David and Tyler, who have had the chance to learn from people like Mike what needs to be done to put a successful baseball product on the field. We're confident that these two young men will build on the success that we had in 2013 and really have had over the course of the past four years," said David Gauldin II, the president of Waynesboro Amateur Athletics, the nonprofit that runs the Waynesboro Generals.
Waynesboro has finished each of the past two seasons ranked in the final Perfect Game USA national college summer baseball poll. The Generals were two-time defending South Division champions heading into 2013. That streak was broken with a 22-22 regular season that put the Generals in fourth place in the South, but the team swept regular-season champ Harrisonburg in the first round of the playoffs en route to the improbable championship run.
There's a sense that the coaching job done by Bocock in 2013 may have been his best given the circumstances.
"I want to thank Waynesboro for the opportunity to be a part of this organization this year. I also want to thank the Waynesboro fans. Waynesboro really does have the best fans in the Valley League. Their support for us during the championship run was just outstanding," Bocock said.
The team will honor Bocock at its home opener next summer with a Mike Bocock Night to commemorate his 600-plus wins and eight VBL titles.
"And we're leaving the door open to Mike being able to play a bigger role with us in the future, as a consultant, maybe even back in the dugout as a coach," said David Gauldin II.
Bocock definitely sees himself in a dugout again in the future.
"Coaching is in my blood," he said.
More online at www.WaynesboroGenerals.net.