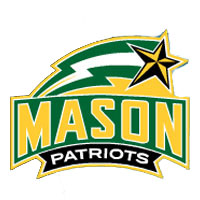 Marquise Moore poured in his third double-double of the season and led Mason with a career-high 16 rebounds, but could not lead George Mason past Duquesne. The Patriots dropped an 86-75 decision against the Dukes in the RAC as the game was moved up from Saturday due to Winter Storm Jonas approaching the area.
GAME NOTES
-Duquesne quickly gained a 10-point advantage as Mason struggled early on from the field, being limited to one field goal through the first six minutes of play. Jaire Grayer snapped the streak with a three-pointer for a 12-5 ballgame at 13:58 in the first half.
-Grayer cut the score to five points connecting on his second trey of the game with 11:41 left in the first half, but the Dukes answered with a 12-0 run to gain a 29-12 lead with 8:21 to play in the half. Grayer snapped the run with another triple, but Duquesne would hold a comfortable lead over the Patriots and lead by 14, 45-31, at halftime.
-Duquesne pushed its lead out to 17 points for the second time in the contest coming out of halftime. Mason responded with a 12-0 run to slice the deficit to four points, 52-48, with 13:01 on the clock. The teams traded pairs of free throws as Mason trailed by four points and held Duquesne within a single-digit advantage for seven minutes of play.
-Colter connected on two free throws to return a double-digit lead to the Dukes as Duquesne slowly built its lead back out to a comfortable lead.
-Duquesne hit three field goals in the final five minutes of action and was 12-of-15 from the free throw line to take away the victory.
STAT BREAKDOWN
-Jaire Grayer led five Patriots in double-figures, contributing 17 points. Marko Gujanicic followed with 14 points for his second straight double-figure game. Moore added 12 points, while both Otis Livingston II and Jalen Jenkins contributed 10 points each. For the game, Mason shot 34.7 percent (26-75).
-Grayer led Mason with four three-pointers as the Patriots were 10-of-31 from long range. Duquesne was 12-of-28 from three-point land led by L.G. Gill who was 5-of-8.
-Duquesne shot 68.3 percent from the free throw line, going 28-for-41, led by Derrick Colter's 14-of-17 effort. Mason was 13-of-17 at the charity stripe.
-Mason won the rebounding battle 48-40 paced by Moore's career-high 16 rebounds. The Patriots used 21 offensive rebounds for 23 second chance points.
NEXT ON THE COURT
-Mason has a bye week and returns to action on Saturday, January 31 against Revolutionary Rivalry foe George Washington. Tip is set for noon on NBCSN in EagleBank Arena.