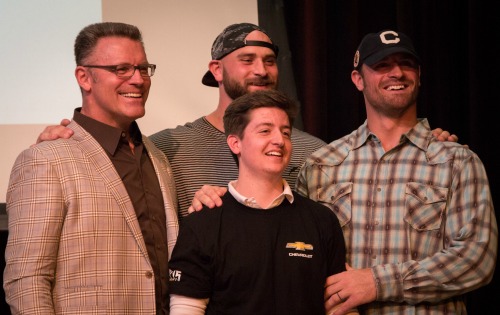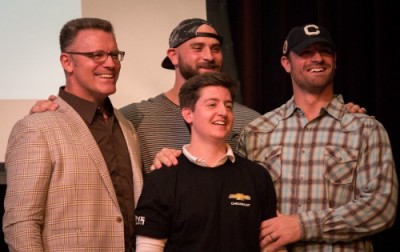 Professional football players and St. Anne's-Belfield School alumni Chris '04 and Kyle Long '08 were back on campus today as part of Chevrolet's #BestDayEver initiative. The coordinated program saw the automaker partner with athletes and celebrities to surprise people across the country in meaningful ways.
Chris, now with the St. Louis Rams, and Kyle, now with the Chicago Bears, reminisced about their time at the School and advised students of the importance of their teachers, the many opportunities offered at the School, and the friendships that will stay with them throughout their lives. Kyle also read "The Man in the Glass" to the assembled students, the same poem Coach Blake still reads to his football team before each game.
Though their brother Howie, Jr. '09 was unable to attend today's event, their father Howie Long, a Pro Football Hall of Famer, Emmy Award-winning Fox TV sports analyst, and actor, took the stage to advise students to dream big as they look ahead to what's next in life.
In addition to receiving t-shirts to mark the day, students also found out that the Long brothers would be donating $5,000 per year for the next four years for Upper School students to determine a cause or organization deserving of these funds.
"It's always great to have alumni back on campus and for the Long family to include us in their #BestDayEver is a huge honor," said John Blake, the School's director of alumni relations and head football coach.
Coach Blake also announced that Kyle's number, 58, will be retired by fall 2015. Chris' number, 55, was previously retired and his jersey hangs in the School's Conway Convocation Center.