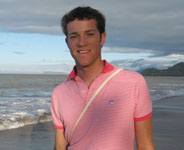 Submitted Item
News tips: [email protected]
Thomas Sheffer, a Mount Sidney resident and graduate student at Virginia Tech, will run in the National Marathon in Washington, D.C., March 20, to raise money for the nonprofit organization Active Minds Inc.
His run will be made in honor of his brother, Daniel, who passed away in December 2008. Daniel Sheffer was a freshman at Bridgewater College at the time of his death.
Active Minds is the nation's only grassroots mental-health awareness, education and advocacy organization on college campuses, dedicated to engaging young adults in the fight against stigma and suicide.
The group's mission is to use peer outreach to increase college students' awareness of mental-health issues, provide information about available resources, encourage students to seek help as soon as it is needed, and serve as liaison between students and the mental health community.
By planning campus-wide events that promote awareness and education, Active Minds aims to remove the stigma that surrounds mental illness and create an open environment for discussion of mental-health issues.
"With chapters at almost 250 colleges and universities across the U.S., Active Minds is truly a source of inspiration in their efforts to break down stigmas associated with mental health issues and suicide," Sheffer said.
Sheffer has a training blog for the event at: http://runningfordan.wordpress.com.
To make a donation or for further informaton, contact Sheffer at 540.487.0345.
Connect with Augusta Free Press
---
The United Way of Greater Augusta
United Way "Fink Family" from DIGICO Shoot | Post | Design on Vimeo.
---
Masterpiece Classic' on WVPT