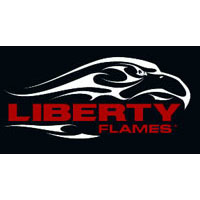 Liberty football coach Turner Gill added 18 players to his 2016 roster as part of National Signing Day on Wednesday.
Gill's 2016 signing class, his fifth recruiting class at Liberty, includes 15 high school standouts, a junior college player who will join the team in August and two players who have already joined Liberty's spring roster.
Gill's 2016 recruiting class includes five offensive linemen, three safeties, two defensive linemen, two quarterbacks, two wide receivers, plus a running back, kicker, cornerback and linebacker.
This year's recruiting class is one of the most diverse in Gill's history, as Liberty's coaching staff was able to ink players from 10 different states.
The Flames signed multiple players from the high school hotbeds of Florida (5), Georgia (3) and Texas (3), while getting single signees from Alabama, Minnesota, Nebraska, New Jersey, North Carolina, South Carolina and Virginia.
Liberty 2016 Freshmen Signees
Name                                      Pos.    Ht.       Wt.     Hometown/High School
Michael Anderson                   DE       6-3       220     Fort Lauderdale, Fla./Boyd H. Anderson HS
Damian Bounds                      OL       6-2       260     Ellenwood, Ga./Stockbridge HS
Aidan Burroughs                     OL       6-3       290     Norfolk, Neb./Norfolk Catholic HS
Stephen "Buckshot" Calvert    QB       6-2       175     Plantation, Fla./Miami Carol City Senior HS
Ethan Crawford                       OL       6-3       315     Augusta, Ga./Aquinas HS
Ceneca Espinoza, Jr.              S          6-1       215     Arlington, Va./Washington & Lee HS
Korell Evans                            LB        6-1       215     Hallandale, Fla./Hallandale HS
Jimmy Faulks                          CB       6-1       175     St. Petersburg, Fla./Lakewood HS
Antonio Gandy-Golden           WR      6-4       190     Dallas, Ga./Paulding County HS
DeCarlo Hamilton                    NG       6-3       315     Plantation, Fla./American Heritage School
Mitchell Lewis                          RB       6-0       220     Auburn, Ala./Lee-Scott Academy
Julio Lozano                            OL       6-4       270     Bellaire, Texas/Bellaire HS (Kilgore College)
Lionell McConnell                    WR      5-10     180     Allen, Texas/Allen HS
Alex Probert                            K          5-9       170     Andover, Minn./Andover HS
Brandon Tillmon                      S          6-1       210     Lexington, S.C./River Bluff HS
Daniel Zapata                          OL       6-2       270     Guttenburg, N.J./Paramus Catholic HS
2016 Mid-Year Enrollees
Solomon McGinty                    S          6-1       210     Navasota, Texas/Navasota HS (Tyler JC)
Rudiger Yearick                      QB       6-4       190     Indian Trail, N.C./Metrolina Christian Acad.