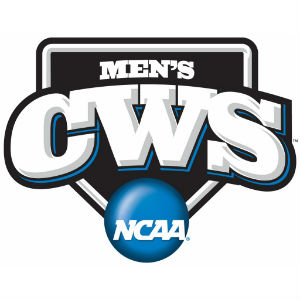 John Norwood hit a tiebreaking solo homer off UVA closer Nick Howard in the top of the eighth, Vandy closer Adam Ravenelle got out of a bases-loaded, one-out jam in the bottom of the eighth, and then Ravenelle closed the ninth with a pair of strikeouts, to give Vanderbilt a 3-2 win over the 'Hoos that clinched the 2014 College World Series championship.
Vanderbilt (51-21) jumped out to an early 1-0 lead in the first off Virginia starter Josh Sborz, getting the run when UVA catcher Robbie Coman threw the ball into centerfield trying to nab Bryan Reynolds trying to steal second, allowing Dansby Swanson, who had led off the inning with a single, to score.
Artie Lewicki relieved Sborz in the second, and kept the Cavs in the game with a workmanlike effort, going six innings, giving up an unearned run on four hits, striking out five and walking two. Down 2-0 in the sixth, Virginia (53-16) finally broke through on Vandy starter Carson Fulmer, who had given up just one hit and two total baserunners through five, but was touched up in the sixth on a Daniel Pinero RBI single that scored Coman from second that made it 2-1, and a Kenny Towns sharp liner that was misplayed by Commodore shortstop Vince Conde for an error that allowed Pinero to score the tying run that made it 2-2.
But the 'Hoos would leave the bases loaded in that inning, and then leave Brandon Downes, who led off the seventh with a single, on second, wasting two opportunities to break the tie.
Norwood would make them pay in stunning fashion, lacing a 1-0 fastball from Howard (2-2), a 2014 first-round MLB Draft pick, down the left-field line for Vandy's first homer of the College World Series. UVA would get a leadoff single from Mike Papi and a walk to Joe McCarthy to put two on with no outs in its half of the eighth. Derek Fisher bunted the runners to second and third, and Kenny Towns, facing Ravenelle, was hit by a pitch to load the bases.
Ravenelle would get John LaPrise to hit into a fielder's choice, pitcher to catcher, just missing getting an inning-ending double play, and then got out of the inning by inducing a grounder to short off the bat of Brandon Downes.
Howard worked around a leadoff walk in the top of the ninth to keep the score at 3-2. Coman, leading off the bottom of the ninth for Virginia, hit a screaming liner down the right-field line, and was robbed of an extra-base hit on a sliding catch by Rhett Wiseman.
Ravenelle struck out Branden Cogswell on a slider out of the zone for out number two, and then got Pinero swinging on a fastball on the outside part of the plate to end it.
Hayden Stone (4-0) got the win in relief for Vandy, giving up two hits in an inning and a third of scoreless work.
2014 Men's College World Series All-Tournament Team
Catcher: Nate Irving, Virginia
First Base: Kevin Cron, TCU
Second Base: Branden Cogswell, Virginia
Third Base: Tyler Campbell, Vanderbilt
Shortstop: C.J. Hinojosa, Texas
Outfield: John Norwood, Vanderbilt
Outfield: Rhett Wiseman, Vanderbilt
Outfield: Brandon Downes, Virginia
Designated Hitter: Dansby Swanson, Vanderbilt
Pitcher: Artie Lewicki, Virginia
Pitcher: Brandon Waddell, Virginia
Most Outstanding Player: Dansby Swanson, Vanderbilt