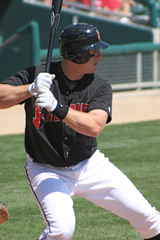 Story by James De Boer
EMU sports: www.emu.edu
 
Eight years after graduating from Eastern Mennonite University, Erik Kratz finally got the call he wanted – the call to the big leagues.
Kratz, who played for the Waynesboro Generals in 2000, has patiently worked his way through baseball's minor leagues before getting his big call during Wednesday's Triple-A All-Star game in Allentown, Pa., just 45 minutes from his hometown in Telford, Pa. He is now a full-fledged member of the Pittsburgh Pirates, becoming part of a select crew of former Royals to play at the top level of their professional sport.
 
WaynesboroGenerals.com has the story.