Five JMU players touched double digits, including 16 each from senior guard Kirby Burkholder (Bridgewater, Va./Turner Ashby) and redshirt-sophomore guard Jazmon Gwathmey (Bealeton, Va./Liberty), to run away with a 72-48 win over William & Mary at Kaplan Arena, Tuesday evening.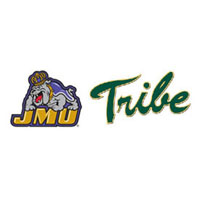 JMU won its seventh straight in the series with W&M, improving to 62-15 all-time against it. The Dukes seventh-straight win of the season improved them to 17-4 overall and 7-0 in the Colonial Athletic Association. William & Mary fell to 5-14 and 2-5 in the league.
Joining Burkholder and Gwathmey in double figures were sophomore guard Precious Hall (Tallahassee, Fla./Maclay School) with 13, junior forward Toia Giggetts (Norfolk, Va./Lake Taylor) with 12 and freshman forward Da'Lishia Griffin (Chesapeake, Va./Western Branch) with her first career double-double with 10 points and 10 rebounds. It was the seventh time this season JMU has placed five players in double figures.
The Tribe was paced by Marlena Tremba and Jazmen Boone with 16 points each. Boone added six rebounds and a game-high four steals. Kaitlyn Mathieu was the only other W&M player with more than four points, finishing with eight points and six rebounds.
JMU held W&M without a point over the final 8:10 of the first half to close the session on a 12-0 run. The Tribe had used a 10-4 run to knot the game at 16-16, but was limited to just one made bucket the remainder of the half. Gwathmey scored six points and Griffin scored four points during the 12-0 run. Gwathmey shot 4-for-5 from the field and had three blocks and three steals to pace the Dukes on both ends in the opening period.
Madison grabbed control of the game for good following a three-point play by Tremba that cut its lead to 12 at 48-26. The Dukes followed that up by embarking on a 13-2 run that included eight straight points from Burkholder that pushed the lead up to 23. The lead never dropped below 19 points the rest of the way and grew to as much as 26.
The Dukes led the entire game stretching their time since they've last trailed to 156 minutes, 14 seconds.
Redshirt senior Nikki Newman (Harrisonburg, Va./Turner Ashby) led all players with five assists while Giggetts had a game and career-high five blocks. Burkholder and Gwathmey tied for the team lead with three steals.
JMU outrebounded William & Mary 51-35 in the game, including a 29-15 advantage in the second half. That led to a 13-11 lead in second-chance points and a 38-14 lead in points in the paint. Madison forced 23 Tribe turnovers for a 27-12 advantage in points off turnovers. The Dukes also tied their team season-high with12 blocks, making it the sixth time they have finished with double-digit blocks.
Burkholder moved into a tie for ninth on the CAA's all-time 3-point list with a trey at the 2:05 mark of the first half. She tied Drexel's Kamile Nacickaite and Northeastern's Ashlee Feldman with 240. She would pass the duo with a three with 11:55remaining in the second half.
JMU blocked nine shots in the first half leading to a dominating 20-8 lead in points in the paint. It also forced the Tribe into 15 first-half turnovers and held them to 23.3-percent shooting in the first stanza.
The Dukes return to the court on Friday as they open a three-game home stand against Northeastern at 7 p.m. at the Convocation Center.