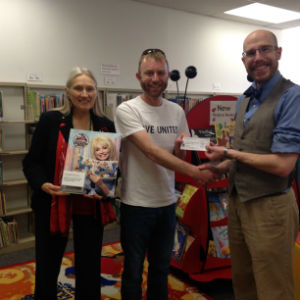 Friends of the Staunton Library has donated $1,000 to United Way of Greater Augusta to support its Dolly Parton Imagination Library program. This gift allows for the addition of 33 families to the program, significantly reducing the amount of time a new family will have to wait to be added to the program.
"The Staunton Public Library believes that reading is the most important skill a child can have", said Ruth Arnold, Director of the Staunton Public Library. "We are very pleased that the Friends are supporting this project to get books into the hands of preschool children in the area."
Through the program, children receive high quality, age-appropriate books every month from birth to age five at no cost to their families. Independent studies have shown that simply having books available in a child's home drastically improves early childhood literacy.
The local Imagination Library program is currently supported by United Way of Greater Augusta and community donations such as the one being made by the Friends of the Staunton Library. Anyone wishing to sponsor one child for a year can do so with a $30 donation.
Registration forms for the Imagination Library are available through the United Way of Greater Augusta office located in Fishersville, or at the Staunton Public Library.
For more information regarding the Dolly Parton Imagination Library, contact Paul Vaughan at [email protected] or by calling (540) 885-1229.
You can also go online at www.unitedwayga.org.