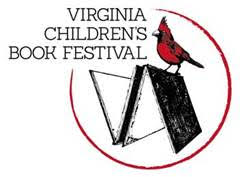 A top-notch group of illustrators will bring a splash of color to the 2015 Virginia Children's Book Festival—and they are all ready to create some great art with attendees.
With a lineup that includes top award winners and several New York Times bestselling authors, festival attendees will have a chance to learn—and create—with the best. The newly released schedule offers festival attendees the opportunity to learn and create with this unique lineup.
"This year's festival will feature artists whose illustrations appear in books of every age range," said festival director Juanita Giles. "There are workshops for children, teenagers and adults, and all of this year's illustrators are scheduled to be at the Longwood Center for the Visual Arts throughout the two days to really engage with attendees and help them create something special to take home."
New to this year's festival are illustrators Duncan Tonatiuh, Sophie Blackall, London Ladd and Edwin Fontenez. Returning for a second year are favorites from the inaugural festival, Todd Parr and Timothy Basil Ering.
Duncan Tonatiuh is an award-winning author and illustrator who comes to the VCBF from Mexico City, Mexico. His books touch on civil rights and historical figures in an approachable, easy way for children to understand, learn and enjoy. Tonatiuh
Sophie Blackall is a heralded illustrator who will lead several workshops with returning author John Bemelmans Marciano. Blackall is also scheduled to appear on the Empowering Girls in Reading panel discussion.
London Ladd is an author and illustrator whose work centers on African-American civil rights struggles. His textured paintings give a sense of richness and emotion to his subjects. He'll be featured on the Empowering Boys in Reading panel discussion in addition to leading several workshops.
Edwin Fontenez's work is inspired by nature and animals and almost always has a magical quality. He's an award-winning author and illustrator who will lead several workshops
Todd Parr is a New York Times bestselling author. His illustrations are instantly recognizable and accessible to the youngest readers. A veteran of the 2014 VCBF, Parr brings back his lively workshops and creativity.
Timothy Basil Ering is perhaps best known for illustrating the 2004 Newbery Award winning novel The Tale of Despereaux. A successful author in his own right, Ering brings back his unforgettable energy and enthusiasm for art to a new crop of festival attendees.
Graphic novelists
In addition to traditional illustrators, this year's festival features a genre that is taking root in a big way among children's literature: graphic novels.
As graphic novels increasingly become an entry point to the world of literature for many young reluctant readers, the form is being recognized by the top children's book award panels. El Deafo, a graphic novel by 2015 VCBF author Cece Bell, who hails from nearby Salem, Va., was selected as a Newbery Honor Book in 2015.
In addition to Bell, this year's festival will feature graphic novelist Ben Hatke, whose Zita the Spacegirl series earned him a spot on the American Library Association's Notable Children's Book list.
"A lot of young people simply don't want to sit down and read a book," said Giles. "But reading is still important—children who don't read at grade level early on are at a significant disadvantage through the rest of their developmental years—so meeting those reluctant readers where they are is of paramount importance. Cece Bell and Ben Hatke are two of the most interesting graphic novelists out there working in young people's literature."
But graphic novels are more than just one entry point to a larger world of books for reluctant young people: they're simply fun to read. And sometimes that makes all the difference.
At the 2015 VCBF, Bell and Hatke will lead a number of workshops, work with children in unstructured art time at the LCVA and participate in several panel discussions.
The full 2015 VCBF schedule is available at www.vachildrensbookfestival.com.