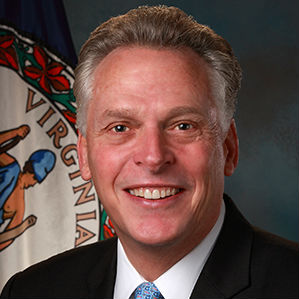 Governor Terry McAuliffe today kicked off the Governor's Forum on Bio and Big Data/Analytics, calling for business, academic and regional partnerships that will position the Commonwealth as a global leader in the high-growth bioscience sector.
The Forum was a featured part of the THRiVE 2015 conference, which attracted 350 bioscience leaders from across the state and beyond – including representatives from major businesses, universities, research organizations, investors, entrepreneurs, policy makers, and scientific and professional services firms.
Hosted by Virginia Bio, the statewide nonprofit trade association representing the life sciences industry in the Commonwealth of Virginia, THRiVE 2015 showcased cutting-edge bioscience work now being done in Virginia. In addition, the event helped identify needs and reveal tremendous opportunities ahead with the goal of moving Virginia on a path to become a global leader in the field that is remaking the health care market.
"Virginia is poised to fully capture the tremendous opportunity that discovery in bioscience offers for both human health and economic growth,"Governor McAuliffe said. "We recognize that there is an opportunity for our region to become a global leader in bio and big data and analytics. We just need to catalyze the connections that will make it happen. As we look ahead, we must realize that we can no longer be so reliant on the federal government. That is why I spend every single day focused on building a new Virginia economy that is more diversified, more resilient, and less reliant on federal spending. Bioscience – and especially the convergence of bioscience with our IT strengths – has got to be one of the pillars of our new Virginia economy."
The Governor's Forum on Bio and Big Data/Analytics featured a number of key bioscience leaders, including:
Jason Paragas, Deputy Director, Office of Mission Innovation at Lawrence Livermore National Laboratory
Paul Wallace, Chief Medical Officer and Senior Vice President for Clinical Translation, Optum Labs, Cambridge, Mass.
Jon White,  Acting Deputy National Coordinator, Chief Medical Officer,  Office of the National Coordinator for Health Information Technology
Yihong Yao, Director and Head of Pharmacogenomics and Bioinformatics Group, MedImmune
"THRiVE 2015 provides an opportunity for all the stakeholders that are reshaping the Virginia bioscience market – from our leading research universities to federal policy makers to private investors to companies delivering innovative human health solutions – to get together in a single location," said Jeffrey M. Gallagher, CEO, Virginia Bio. "We applaud Governor McAuliffe for his proactive leadership and foresight in promoting Virginia's role as a leading economic and innovative force in life sciences nationwide."
About Virginia Bio: Virginia Bio is the statewide nonprofit trade association for life sciences, developing and promoting the considerable scientific and economic impact of life sciences research, development and commercialization in Virginia. Virginia Bio also is an advocate for the biopharmaceutical and medical device industries among federal, state and local policy-makers. Virginia Bio is the official state affiliate of the Biotechnology Industry Organization (BIO), AdvaMed and the Medical Device Manufacturers Association (MDMA) and also collaborates closely with the Pharmaceutical Research and Manufacturers of America (PhRMA). To learn more, visit www.vabio.org.