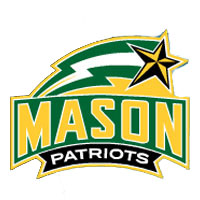 The George Mason men's basketball team outshot George Washington Saturday afternoon, but a strong effort from the Colonials at the charity stripe sealed a 63-53 GW victory in the Smith Center. Shevon Thompson recorded his eighth double-double of the season and Corey Edwards recorded a career-best four three-pointers in the contest.
Edwards matched his career-high of 13 points behind a career-best effort from three-point range, going 4-for-6 from long range. The senior finished the game with two steals, one assist and a 1-2 free throw outing. Thompson followed Edwards with 11 points and added 11 rebounds as the junior paced Mason (6-11, 1-4 A-10) on the boards, out-rebounding the Colonials 39-35. Marquise Moore posted four points to go along with four assists, four rebounds and two steals.
For the game, Mason shot 36.2 percent (21-58) to GW's (14-4, 4-1 A-10) 35.4 percent (17-48), but a 6-for-12 effort from the free throw line hindered the Patriots as the Colonials finished 23-for-31 at the charity stripe. Mason outscored GW in the paint, 28-14.
Three Colonials posted double-figures paced by Patricio Garino with 14 points, hitting 6-of-7 free throws in the process. Joe McDonald added 12 points, while Kethan Savage contributed 10 points and a team-best six rebounds. GW's big man Kevin Larsen was held to seven points off five throws.
GW shot just 28.0 percent in the first half as Mason was 40.0 percent from the field, but trailed 26-20 at the break. Mason made just three trips to the free throw line in the first half while GW was 9-for-11. Mason opened the second half with a 9-2 run as Edwards gave Mason its first lead of the contest with a triple at the16:39 mark. Yuta Watanabe answered with a jumper and free throw to push GW back in the lead, but Thompson knotted the score at 31-31 with a jumper at 15:14.
Savage would return the final lead to GW less than 20 seconds later. Isaiah Jackson and Edwards would bring the Patriots back within a possession minutes later, but GW would hold strong and open a double-digit lead with just under eight minutes to play.
Mason returns to the Patriot Center to host Davidson on Saturday, January 24 at 7 p.m. for a Green Out and double feature with the women's team who hosts Rhode Island at 2 p.m.