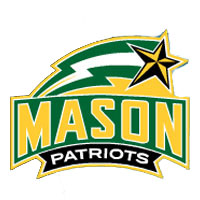 Redshirt sophomore Jalen Jenkins sank a three-quarter court shot from just beyond Manhattan's foul line to give George Mason a 64-63 victory Saturday afternoon over Manhattan in the Patriot Center. Jenkins set a career-high against the Jaspers finishing with 24 points.
Mason (2-4) rallied from a six-point deficit with 19 seconds left to play to pick up its second win of the season. Patrick Holloway ignited the Mason comeback hitting back-to-back three-pointers to cut the score to 62-61 with three seconds remaining. Picking up a foul, Manhattan's (1-4) Shane Richards hit the front end of a pair of free throws as the second one rimmed off, allowing Jenkins to pull down the rebound. The Patriot took two steps and heaved the 75-foot shot just beyond the Jasper's foul line as time expired.
Jenkins finished with a career-high 24 points and secured seven rebounds, two blocks and an assist on the night, while going 5-for-7 from the charity stripe. Holloway added 18 points, while Marquise Moore posted 11 points. Shevon Thompson led the Patriots on the boards with nine rebounds as Mason outrebounded Manhattan, 41-24.
Manhattan led by as many as 13 in the contest and was led offensively by Richards with 18 points. Trailing by 10 points with less than seven minutes to play in the first half, the Patriots closed the half with a 13-0 run fueled by Jenkins with nine points to tie the game at 28-28 at halftime.
The Jaspers opened the second half with a 6-0 run to regain the lead, but Mason clawed its way back, tying the game three times before taking its first lead of the contest on a free throw from Trey Porter at the 9:45 mark. Mason would lead by five before Manhattan retook the lead and led by eight with 1:14 left to play. Jenkins cut the score to 58-53 with an old-fashioned three-point play before tyler wilson hit a free throw for a 59-53 Manhattan lead with less than a minute to go. Holloway and Wilson traded free throws as Mason trailed 61-55 with 19 seconds to play.
Six seconds later, Holloway hit his first three-pointer of the night from the far wing to cut the score to three. A Wilson free throw made it a four-point game with nine seconds left before Holloway drained his second three-pointer from the left wing for a 62-61 ballgame with three seconds on the clock, setting up the final plays.
Mason returns to action as part of a double-header with the women's team on Wednesday, December 3. The women's team opens action at 5 p.m. hosting ETSU as the men welcome Old Dominion at 7:30 p.m.