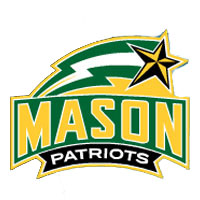 George Mason cut its deficit to single digits in the second half, but could not complete the comeback, falling to first-place Rhode Island Saturday afternoon, 71-56, in the Patriot Center. Shevon Thompson notched his 15th double-double of the season in the loss.
Thompson led Mason with 15 points and 14 rebounds, while freshman Isaiah Jackson added 11 points for the Patriots. E.C. Matthews guided the Rams with 13 points in the first half to the lead the visiting squad to a 41-27 halftime advantage. URI led by as many as 17 points in the period despite Mason making 20 trips to the free throw line, converting 13 attempts.
Behind Thompson's double-double in the second half of 10 points and 10 rebounds, the Patriots cut their deficit to single digits twice. Trailing by 13 with 10:33 to play, Mason used a jumper from senior Corey Edwards and a layup from Marquise Moore to cut the score to 51-42 with 8:22 left on the clock. Jarvis Garrett pushed URI's lead back out to 11 with a pair of free throws, but a tip-in from Thompson 30 seconds later setup a 53-44 ballgame with 7:23 to go. The Rams regained the lead and momentum as Matthews converted a layup and drew the foul for a three-point play on the next possession. URI would then build its lead back out to 15 and finish with the double-digit win to remain in a tie atop the A-10 leaderboard.
For the game, Mason shot 30.8 percent (16-52) from the field to URI's 40.4 percent effort (21-52). The Patriots won the rebounding battle, 41-36, and finished the contest 20-32 from the free throw line. The Rams knocked down seven three-pointers and capped the game 22-26 at the charity stripe. Matthews led the Rams with 18 points, followed by Jared Terrell with 16 points and Garrett with 13 points.
Mason hits the road for a two-game road trip beginning at Dayton on Wednesday at 7 p.m.