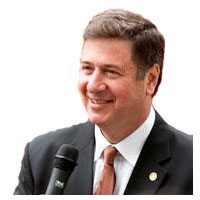 Today in an interview on the Fox Business Network, former Virginia Governor and Senator George Allen announced he is endorsing Marco Rubio for president.
"First of all, national security is important, but we can't have a strong, agile, and technologically advanced national defense without a strong economy, and I've been listening to people who are looking for candidates with coherent ideas and solutions to be for, rather than against," Allen said. "I've listened to all of the candidates demeanor and their agenda, and the one who I think is the very best one that can unite Republicans, can get independents and young people, the right tax reform, productive energy policies, as well as reigning in the regulators is Marco Rubio.
"My wife Susan and I are proud and enthusiastic in supporting Marco Rubio, who I think is the next generation conservative leader that really can get people inspired by his campaign. He can handle double coverage, and he keeps his cool and his poise, and he's grounded on those principles of liberty and opportunity for all."
Allen served as governor of Virginia from 1994-1998 and represented Virginia in the United States Senate from 2001-2007.
"As a strong leader advocating for a more competitive and opportunity-filled America with tax and regulatory reform and productive energy policies for families and enterprise; former Governor and U.S. Senator George Allen will help share Marco's message of optimism for a better future with more jobs and more opportunities," said Rubio Campaign Spokeswoman Caitlin Conant. "We are encouraged by our continued momentum in Virginia and throughout our country. Marco Rubio is thrilled to have Gov. Allen join his National Steering Committee to advance our positive, innovative goals for a New American Century"