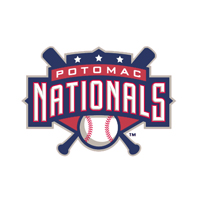 The Potomac Nationals (75-58, 37-27) were edged by the Frederick Keys (65-69, 33-34) in the series opener of a three-day, four-game road set by the final score of 4-3 on Saturday night at Harry Grove Stadium. This is the final regular season set of the current Carolina League campaign.
The Nationals are now (9-8) in their 2014 season series with the regional and division rival, Frederick Keys of the Baltimore Orioles organization.
The red, white, and blue have now dropped three consecutive games. Their longest losing streak of the 2014 campaign is a four-game slide.
With the victory, the Frederick Keys remain in the hunt for a wild card playoff spot as they entered tonight's clash just one game back of the Lynchburg Hillcats (Atlanta Braves) for second place in the Northern Division.
Keys RHP Parker Bridwell (7-10) improved to (3-0) head-to-head pitching against Potomac in 2014 with 6.0 innings in which he surrendered just two earned runs on three base hits including a solo home run blasted over all three tiers of signage in left field by P-Nats 1B John Wooten. Bridwell walked three and fanned six batters on the voyage to his seventh victory.
For Wooten his solo jack in the 6th was the fourth tater of the season for the cornerman in the Carolina League circuit.
Nationals starter, RHP Brian Rauh (2-4) took a tough luck loss, his fourth defeat of the season, while allowing four runs, two earned, on four base knocks, one hit batter, and three walks. Rauh struck out just one man.
The P-Nats scored first in the 2nd inning. After a leadoff walk issued to LF Randolph Oduber, 2B Khayyan Norfork collected an infield single on a groundball to the six hole, RF Estarlin Martinez blooped a shallow single into center field, and 3B Cody Dent worked an RBI walk.
Frederick plated three runs in the home half of the 2nd on a fielding error by Norfork following a ball whipped by C Austin Wynns, an RBI single off the stick of 2B Jerome Pena into right field, and a run-scoring fielder's choice knocked by CF Johnny Ruettiger.
Both clubs scored in the 6th after zeroes on both sides in innings three, four, and five. The Nationals received the gargantuan longball from Wooten and the Keys brought home the infield single of 3B Jason Esposito via an RBI single punched into right field by DH Joel Hutter to give Frederick a 4-2 advantage.
The Nationals got to Keys RHP Ivan Hernandez in the 8th. Hernandez gave up a leadoff walk to CF Isaac Ballou, an infield knock to SS Stephen Perez, a two-out walk to DH Mike McQuillan, and an RBI on-base missile into left field shot by Norfork. On the run-scoring hit, Wooten, who reached on a fielder's choice bouncer, was cut down at home plate on a one-hop bullet from Keys LF Tucker Nathans to preserve a one-run lead for the hosting club.
Potomac LHP Jake Walsh kept the game tight late after entering out of the bullpen by dealing a pair of perfect frames. Walsh fanned a trio.
In the 9th, Keys closer, LHP Lex Rutledge (SV 8) inked his eighth save in save opportunity number 10 with a perfect frame. Rutledge induced Martinez into a 6-3 groundout, got C Craig Manuel on a lineout to left field, and Dent on a popout to shallow center field to end the series-opening contest.
The last installment in the 2014 regular season of the Carolina League's version of the "Battle of the Beltway" continues tomorrow with a double dip set to begin at 4:00pm featuring a pair of seven-inning contests.
The backend ballgame represents a contest that was postponed on July 14th due to rainfall.
The P-Nats have not yet announced their starting pitchers for either doubleheader contest tomorrow. Keys LHP Matt Taylor (6-2, 3.13) will hurl in Game One tomorrow on the penultimate day of baseball on the 2014 Carolina League regular season. First pitch to ignite the twin bill is scheduled for 4:00pm.