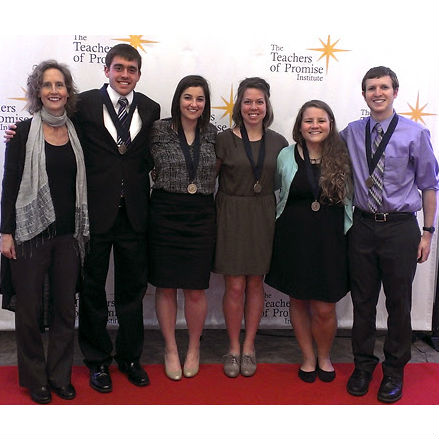 Five senior education students from Eastern Mennonite University were selected by education faculty to attend the March 18-19 Teachers of Promise Foundation Institute in Richmond, Virginia. The annual event brings together 100 outstanding pre-service teachers from Virginia for recognition, mentorship and professional development.
The 2016 Teachers of Promise are
Austin Mumaw, elementary education, from Goshen, Indiana
Erin Nafziger, mathematics, 6-12, from Archbold, Ohio
Isaac Driver, elementary education, from Harrisonburg, Virginia
Malea Gascho, art, PreK-12, from Pigeon, Michigan
Ruthie Beck, history and social science, 6-12, from Archbold, Ohio
The honorees "exemplify strong potential for impacting students in the classroom, high academic standing, commitment to the teaching profession, and embody EMU's teacher education mission to 'teach boldly in a changing world through an ethic of care and critical reflection,'" says department chair and professor of education Cathy Smeltzer Erb. "I am confident that these future teachers will positively influence the lives of each student in their classrooms as they create and advocate for just and equitable learning environments."
EMU's education program values experiential learning, offering early practicum experiences that help candidates determine their professional path. Teacher candidates choose from 15 different licensure programs.
Among 2014-15 graduates, 100 percent of those seeking a teaching job were employed in education after graduation. The education program is one among five private colleges in Virginia accredited by the National Council for Accreditation of Teacher Education (now known as the Council for the Accreditation of Educator Preparation).
Story by Lauren Jefferson