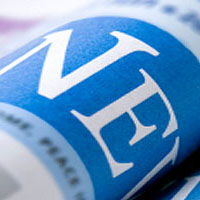 Consumers are asking questions about farms and food, and sometimes the farmer's voice isn't heard.
To better prepare farmers to communicate with the public, several organizations will host a Farming Leaders Conference March 19 at Blue Ridge Community College. The conference is sponsored by the Farm Credit Knowledge Center, Farm Credit of the Virginias, Rockingham County Farm Bureau and the Rockingham Farm Bureau Young Farmers and Ranchers Committee.
The agenda will cover communication styles, modern communication issues and positive media interaction. "The goal of the conference is to prepare those involved in the agriculture community for formal and informal interactions with consumers regarding food and farming," said Jesse Martin, producer of On the Farm Radio and an organizer of the event.
Presenters include Martin; Dr. Alex White, a dairy science professor at Virginia Tech; Lauren Arbogast, an agriculture lifestyle blogger; Matt Lohr, director of the Farm Credit Knowledge Center; and a team of communicators from the Virginia Farm Bureau Federation.
"Farmers want to communicate their stories with the public, but they often don't feel comfortable doing that," said Kathy Dixon, VFBF staff writer and assistant editor. "We provide media training that helps them feel more comfortable communicating with the media, and we offer tips on how to build better relationships with TV and newspaper reporters in their communities."
The conference is open to anyone. Registration is $15, and space is limited. Register online at farmingleaders.com.