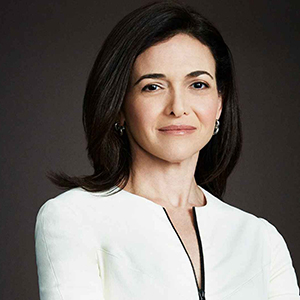 Sheryl Sandberg, the chief operating officer of Facebook and founder of LeanIn.org, will address Virginia Tech's Class of 2017 during University Commencement exercises on May 12 at Lane Stadium/Worsham Field.
The University Commencement ceremony will begin at 8:30 a.m. It is anticipated that more than 5,000 graduates and their families and friends will attend the event.
Virginia Tech alumna Regina E. Dugan, vice president of engineering and leader of Facebook's new Building 8 hardware product development team, will introduce Sandberg to the graduating class.
Dugan, who came to Blacksburg last fall to deliver the inaugural Beyond Boundaries Presidential Lecture, also ran Google's Advanced Technology and Products Team and was the former head of DARPA, the Defense Advanced Research Projects Agency. Engineer and artist, her accomplishments span advances in hypersonics to an OSCAR nomination.
In 2013, Dugan was inducted in to the Virginia Tech College of Engineering's Academy of Engineering Excellence, and that same year, CNN named her in its top 10 list of thinkers in science and technology who are "changing the world with their insights and innovations."
"Our graduating students will have an unbelievable opportunity to hear from two of the most influential and inspiring women leaders in American industry today," said Virginia Tech President Timothy D. Sands. "Sheryl Sandberg's many professional accomplishments in both the private and public sectors are remarkable and inspirational in their own right. In addition to that, she has had to face the devastating and sudden loss of her husband. Her open and honest public dialog on loss and resilience will surely inspire our graduates as they prepare for the next step in their life's journey. "
Following an early career in public and government service, Sandberg joined Facebook in 2008 as the company's chief operating officer. In that role, she oversees all of Facebook's business operations, including sales, marketing, business development, human resources, public policy, and communications. She has helped the company scale its operations and expand its global footprint, and in 2012, she became the first female member of the company's board of directors.
Prior to her work at Facebook, Sandberg was vice president of global online sales and operations at Google from 2001 to 2008. There, she was responsible for managing online sales of advertising and publishing products, Google Book Search and consumer products. During her seven years with the company, Sandberg became known for her professional success and her reputation grew as one of the top executives in the country.
From 1996 to 2001, Sandberg served as chief of staff for United States Secretary of the Treasury Lawrence Summers.
She is the author (with Nell Scovell) of "Lean In: Women, Work, and the Will to Lead", the national bestseller. In "Lean In", Sandberg examines why women's progress in the workplace has stalled and offers common-sense solutions. Published in 2013, Lean In has sold more than a million copies and inspired a global community group, LeanIn.org, which Sandberg founded to support women striving to reach their ambitions.
In 2003, Sandberg married Dave Goldberg, then an executive with Yahoo! and later CEO of SurveyMonkey. In 2015, Goldberg died suddenly, and since that time, Sandberg has written and spoken publicly about the impact his death had on her and their children, and on the importance of resilience. She is currently co-writing a book called Option B, which focuses on coping with loss and difficult circumstances. It will be published this spring and includes current research and personal stories—including her own.