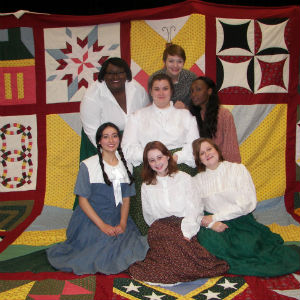 Mary Baldwin College opens its 2014-2015 theatre season with the musical Quilters by Molly Newman and Barbara Damashek. Directed by MBC Theatre Professor Terry Southerington with musical direction by Brian Holsopple, the musical dives into the subject of frontier life and  womanhood and runs October 3-5 and October 8-12, 2014.
Set in the American West, the play follows a pioneer woman named Sarah her six daughters as they tell their own and other women's stories of life on the frontier.  Audiences witness scenes from trials and hardships, to laughter and joy, set to music, dance, and vivid storytelling all set in a background of traditional quilt patterns.  This touching musical will have audiences on a roller coaster of emotions right to the end.
The cast of MBC Theatre performers includes Michelle Brandt as Sarah with Tiara Bowling, Myra Diehl, Kara Dotten, Carolyn Kennedy, Frances Koogler, and Aerial Woods as her daughters.
The season will continue with These Shining Lives by Melanie Marnich November 19-23, Metamorphoses by Mary Zimmerman February 11-15, The Lone Star Love Potion: An American Farce by Michael Parker March 25-29, and MBC's student-directed new one-act play festival, The Play's the Thing, May 6-10.
Please join us for an evening which is sure to touch your heart.   All performances are in the Fletcher Collins Theatre in Bertie Murphy Deming Fine Arts Center at Mary Baldwin College. Show times are 7:30 p.m. Wednesday through Saturday with Sunday performances at 2 p.m. Doors open a half hour before every performance. Season tickets and single show tickets are available by calling 540-887-7189, Monday through Friday 10am to 5pm, or online at mbc.edu/theatre. Season tickets are  $50 for adults and $25 for students and seniors. Single show tickets are $12 for adults and $7 for students and seniors. Shows tend to sell out, so get your tickets today!