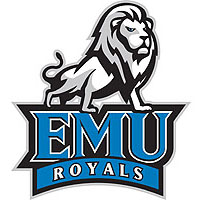 One thing is sure after a quick look at the ODAC men's cross country preseason poll – not much is sure. The EMU men ended up fourth in the poll, conducted by the league's coaches, although they were just a single point out of third place in a jumbled ranking.
The Royals tallied 77 points, landing at No. 4 in the poll, 12 points ahead of Roanoke. Lynchburg was just one point ahead of EMU in third with 78 points, while Washington and Lee garnered a first-place vote and was not much further ahead at 87 points. Defending ODAC and S/SE Region champ Bridgewater College received all 10 first-place votes possible and was a clear-cut preseason favorite. Coaches are not allowed to vote for themselves in the poll.
Senior Ryan Gehman (Millersville, Pa./Lancaster Mennonite) headlines EMU's returners. He finished eighth at the ODAC Championships last fall to earn All-ODAC Second Team honors before being named All-Region as well. Fellow senior Jacob Landis (Sterling, Ill./Sterling) was never at full strength after recovering from an injury, but still managed an All-Region finish. The men return their entire team from 2013, including a number of now-sophomores who expect to make a significant improvement in their second year in Coach Jason Lewkowicz's program.
The Royals open their year on August 29 with the ODAC Preview hosted by Guilford College in Greensboro, N.C.