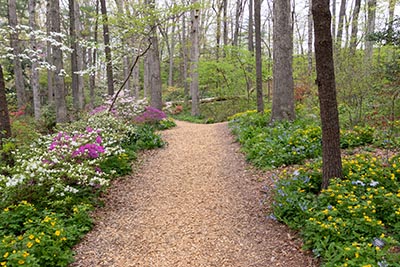 The Edith J. Carrier Arboretum presents "Honoring Our Trees – The Circle of Life" – an event designed to introduce attendees to Virginia and Harrisonburg Urban Wood utilization programs – on Thursday, Sept. 8 at 5:30 p.m.
The event will feature:
Virginia and Harrisonburg Urban Wood utilization programs: Joe Lehnen from the Virginia Department of Forestry and Jeremy Harold with the City of Harrisonburg will discuss programs focused on upcycling felled or damaged trees due to pests such as the emerald ash borer. The programs allow staff to be proactive in the removal of dead or hazardous, dying trees while making wood available to the public.
Rocktown Urban Wood: Will feature wood products that are available for purchase
James Madison University: Nick Brinen, JMU Assistant Professor of Architectural Design, will be presenting on behalf of JMU's participation in urban wood utilization efforts, a special bike shack project and opportunity for future projects.
Food and beverages served will include ingredients derived from trees. JMU Dining Services will provide the hors d'oeuvres along with a variety of beverages, including Sage Bird Ciderworks cider available for purchase.
Chef James Routhier will be present to chat with guests about how to set up an impressive charcuterie display.
Registration is $25 per person and includes one beverage ticket and hors d'oeuvres.
For more information or to register, click here.