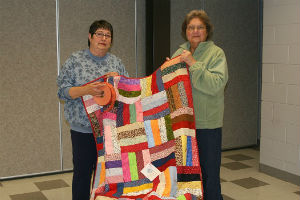 East Rockingham Senior Center began a lap robe raffle on May 13, with the proceeds going to VPAS for the Harrisonburg/Rockingham Region. The accompanying photo shows ERSC Substitute Director Y. Shoemaker (left) and Marie Frey holding the beautifully crafted quilt. Tickets are $1.00 each, and the lap robe will be displayed and tickets sold through Thursday, May 16, when a community clubs and organizations fair will be held that evening at the community center where ERSC is housed.
The lap robes are assembled and sewn by ladies from Elkton United Methodist Church. Two of the ladies from the church–Marie Frey and Floe Koontz–recently held a lap robe quilt tying workshop at ERSC, and they offered four lap robes to ERSC members whose names were drawn at random. Those lap robes were delivered to the Center on May 13. After that workshop, ERSC Director Lisa Gooden phoned Mrs. Frey to inquire whether she and Mrs. Koontz would consider donating one of the quilts for a raffle for VPAS. A short time later, Mrs. Frey phoned Lisa to say that she and Mrs. Koontz had discussed and agreed this would be a worthy cause.
The winner does not need to be present, so we are hopeful that we can sell a few chances and bring in some revenue for our Region.
For more information, call Lisa at 540-383-7006.
More online at www.EastRockinghamSeniorCenter.org.