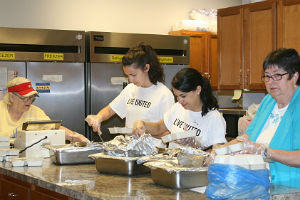 East Rockingham Senior Center hosted volunteers from Wells Fargo for the annual United Way Day of Caring on May 15.
The four volunteers socialized with the 18 members in attendance for the day, assisted with dishing food for meals on wheels and congregate meals, were given an overview of VPAS programs and services, as well as activities that are offered through the Elkton Area Community Center–the building where ERSC is housed.
The United Way Day of Caring for ERSC was coordinated by Beth Bland, H/R RD.
More online at www.EastRockinghamSeniorCenter.org.