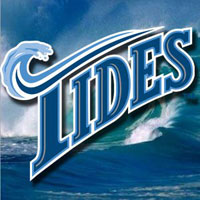 Robinson Chirinos delivered the game's biggest hit, and the Durham Bulls defeated the Norfolk Tides 3-1 Sunday at Harbor Park in front of 3,965 fans.
Nick Bierbrodt served up the hit to the Durham catcher, a two-run double to deep center field that gave the visitors a 2-1 lead in the 6th inning. Bierbrodt had just replaced starter Brian Matusz after Matusz issued a one-out walk to Jose Lobaton that gave the Bulls runners at first and second base.
The Tides had their chances on the afternoon. Norfolk recorded 12 hits but went just 1-for-10 with runners in scoring position. Brendan Harris delivered the lone hit, a one-out RBI single that plated Jake Fox and gave the home team runners at first and second base. Then, with a hit-and-run in place, John Hester lined out to the left fielder who tossed it to second base and easily doubled-off Green. It was one of four double-plays the Tides hit into on the afternoon.
Matusz (0-2, 3.94) took the loss after allowing two runs in 5. 1innings. He allowed six hits and three walks while striking out six batters.
Alex Torres (6-6, 3.30) picked up the win after allowing just the one earned run in 7.0 innings. The lefthander allowed 10 hits on the afternoon but kept the Tides at bay thanks to three inning-ending double plays.
Felipe Lopez added a sacrifice fly in the 7th inning to close out the scoring.
Jay Buente picked up his first save after allowing two hits in 2.0 innings. He struck out two batters.
The Tides will take the next three days off for the All-Star Break. The Triple-A All-Star Game will be played on Wednesday, July 13 in Salt Lake City, Utah. The Tides will be represented by closer Mark Worrell.
The Tides will return to action on Thursday, July 14 when they open a four-game series in Gwinnett. The team will return to Harbor Park on Monday, July 18 for an eight-game homestand that features the Toledo MudHens and Gwinnett Braves.