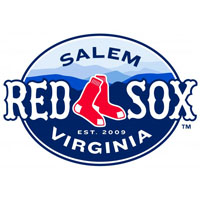 The Salem Red Sox fell behind early for the second consecutive night, and despite a furious comeback attempt, dropped a slugfest with the Winston-Salem Dash 13-8 Friday night at LewisGale Field.
The Dash (6-10) wasted no time getting to Red Sox starter Dedgar Jimenez, striking for five runs in the first inning, including three on a Gerson Montilla home run. Winston-Salem tacked another four runs on in the second, and it was a quick 9-0 deficit. Montilla ended up driving in five runs and hitting for the cycle in the game.
The Red Sox (10-6) fought back, however, against Spencer Adams of the Dash, scoring a pair in the second on a Mike Meyers single and a Mitchell Gunsolus fielder's choice groundout. Salem cut the lead to 9-3 in the fourth when Gunsolus doubled to plate Danny Mars.
Reliever Mario Alcantara replaced Jimenez (0-1), who gave up nine runs in 1.1 innings, and allowed two runs (one earned) in 3.2 innings of solid work.
Salem brought three more runs home in the bottom of the fifth, with a parade of hits aided by three fielder's choices – two of which netted runs to make it 11-6. The six earned runs against Adams (2-0) are the most he has allowed in a game in his career.
Another run came home in the seventh against reliever Colin Kleven, when Andrew Benintendi laced his second double of the game and came home to score on a Mars single. Mars finished 2-for-5, with two RBIs, a stolen base, and two runs scored.
The Red Sox brought the tying run to the plate in the bottom of the eighth inning in the form of Nick Longhi, but were unable to score against Danny Dopico.
Austin Maddox pitched well out of the bullpen for the Red Sox, lasting 3.2 innings, but allowed two runs in the ninth to push the Dash lead to 13-7.
Andre Wheeler allowed the Red Sox to score a run in the bottom of the ninth on a David Sopilka single, but was able to seal the victory for Winston-Salem, who have won the first two games of the series.
Salem continues the series with the Winston-Salem Dash on Saturday at LewisGale Field. First pitch is scheduled for 6:05 pm. The Red Sox will send Matt Kent (1-0, 5.40) to the mound, and he will be opposed by Matt Cooper (0-1, 4.20) of the Dash. For tickets and more information, call (540) 389-3333 or slide to www.salemsox.com/tickets.