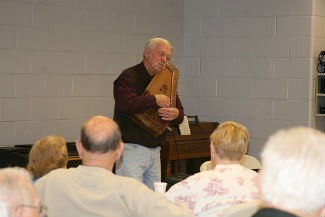 Bucky Monger, well-known Elkton resident and accomplished autoharp player, shared his musical talents with 35 East Rockingham Senior Center members and three volunteers/guests on April 8.
Mr. Monger was eager to play for members using his two month old autoharp, crafted by an 80-yr. old gentleman from Pennsylvania. The new harp, Monger explained, was crafted from walnut that he carefully chose and he said his autoharp was the 1472nd one created by this individual. When asked how long he has been playing the autoharp, Monger explained that he began in 1972, and he took him two weeks to learn to play.
Mr. Monger's performance provided members the opportunity to sing along to many familiar hymns and songs. Prior to his departure, Mr. Monger gave each member an up close look at this beautifully crafted piece, and he was eager to answer questions from members as well. His visits to ERSC are always enjoyed!
More at www.EastRockinghamSeniorCenter.org.