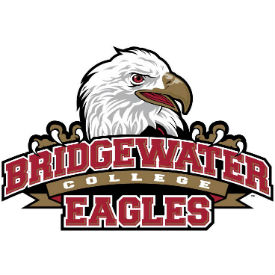 The host Tigers shut down Bridgewater in the second half, as the BC football team lost 27-3 on Saturday at Hampden-Sydney.
Bridgewater's defense kept the team in the game for most of the day, but tired late as Kyree Koonce (22 yards) and Owen Costello (8 yards) scored second half touchdowns to widen the final margin.
Linebacker Davey Hardesty led Bridgewater with 10 tackles and 2 pass breakups. Sonny Romine added nine tackles and Anthony Moton contributed seven stops and a pass breakup.
Offensively, BC was held to seven first downs and 188 yards, while throwing three interceptions. Peter Monteleone caught a 56-yard pass in the fourth quarter and led the Eagles with five catches for 86 yards.
The first half was defined by fourth down attempts. Sidney Henry picked offRoss Rushing (his ODAC-leading sixth interception of the season) on the very next play after Alex Sefton's TD catch had opened the scoring. Bridgewater's defense got a fourth down stop however to avoid further damage, with Nicholas Cawthon tackling Costello shy of the sticks following a short pass over the middle.
HSC faced another fourth and long, this time on the Bridgewater 39, and went for it again. Edgar Moore hit Austin Perryman for 20 yards, leading to a field goal and a 10-0 Tigers lead.
Bridgewater drove across midfield and faced a 4th-and-3. Matthew Pisarcik found Keith Jennings, who beat Henry on a route for six yards and the first down. That led to three points for Bridgewater on Chandler DeHaven's 37-yard field goal.
Kevon White converted yet another fourth down the next time Bridgewater had the ball. The Eagles went for it on 4th-and-1 four plays later; Pisarcik was chased backwards and threw up a jump ball that Christian Wilder picked off.
Hampden-Sydney tried a double-pass that went to Perryman and then back to the quarterback Moore, but there was a holding downfield and Bridgewater's defense got off the field in the second quarter.
The Eagles failed on fourth down following Monteleone's long catch. Overall they were 3-of-5 on fourth down conversions, including a fake punt run by Andrew Donafrio in the third quarter.
Koonce carried the ball 25 times for 144 yards and a score. Moore completed 25-of-37 passes for 216 yards and one touchdown, with six of those completions also going to Koonce. Henry finished with a team-high 10 tackles to go with his interception.
Bridgewater falls to 3-5, 1-4 ODAC and will look to finish the 2015 campaign strong with consecutive home games vs. Randolph-Macon (Nov. 7) and Catholic (Nov. 14). Hampden-Sydney is 6-2, 4-1 and sits one game back of Washington & Lee in the ODAC championship race.