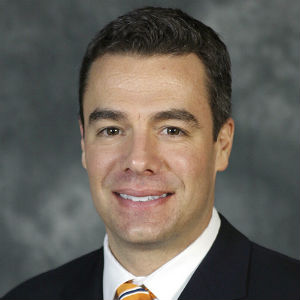 Duke called a 30-second timeout with six seconds left, down one to seventh-ranked Virginia, and coach Mike Krzyzewski had at least three good options.
Brandon Ingram had cooled off considerably after an other-worldly 9-of-10 in 11 minutes stretch earlier in the game, but he was still an obvious first option.
Grayson Allen wasn't doing much from the field, but he had been getting to the line in the second half.
Matt Jones was 4-of-5 on threes, and if Virginia hedged on a screen as the Cavs are wont to do in their Pack-Line, Jones could finish.
Coach K was thinking Marshall Plumlee.
"The big thing for Marshall is to get open and get it to him," Krzyzewski said. "The play before, Marshall didn't get it to him, and Grayson didn't set up his man as well. And really at that six-second thing, Marshall just told Grayson, Set your man up. That's the kind of thing Marshall's doing."
Allen got the ball on the inbounds, with Marial Shayok checking him. Plumlee had Anthony Gill, and as Allen dribbled, dribbled, he had some daylight to get the ball to Plumlee rolling to the rim.
"I really wanted to attack the basket just because throughout the game I'd been having success, even kicking the ball out," Allen said. "If they were to help off, I was going to kick it out and find a shooter. But I felt like I had the lane, and I felt like I had my man one-on-one, so I knew he was going to be strong and body up, so I just knew I was going to go through that and go to finish."
Virginia didn't send another defender to help Shayok, and Allen decided to take it himself, though having Gill bogged down with Plumlee in the middle of the lane would prove crucial.
As Allen up-and-undered Shayok to create some space, probably traveling, based on multiple reviews of the replay, but it wasn't called, Gill had to stay with Plumlee under the rim instead of sliding over to contest Allen's pending shot.
As Allen left the floor, then returned, the ball not releasing until his right foot was back on the ground, again, a violation, not called, Gill was neutralized by Plumlee's side.
"Marial did a good job. They had six seconds. He made Allen hit a hard shot," Virginia coach Tony Bennett said.
The issue of the no-calls on Allen's run through the lane obviously moot, the story of the game should be the chess match between Bennett and Krzyzewski on lineups.
Brandon Ingram, a talented 6'9" freshman who is a classic stretcb-four, able to post up smaller defenders and take bigger defenders off the dribble, forced Bennett's hand in that unconscious one-man gang scoring run.
"We just could not match up with Ingram. We had a hard time," Bennett said. "I thought that Malcolm (Brogdon) did a nice job spreading out, but then we needed to play with a fourth guard, we thought for the other match-ups, and I think that affected our rebounding in a lot of ways. Ingram is so quick off the floor that he got a couple after he missed."
Putting Brogdon on Ingram did quiet him down, and Duke only made two of its last 13 shots from the field over the final 12:17.
But moving Brogdon over to Ingram created a match-up problem with Allen, who scored nine of his 15 points in the final 8:35, keeping Duke in the game over one four-minute stretch by getting to the line four times on fouls on Virginia defenders on dribble drives, and connecting on 7-of-8 at the line in the stretch.
Bennett conceded that he thought about switching Brogdon to Allen during the final 30-second timeout.
"Allen is so aggressive, can get going into the lane and draw some fouls, but Ingram can rise up, so we just had to pick our poison in a way," Bennett said.
Sometimes it's just a matter of, you can do everything right, and the shot still goes in, and you still lose.
"I give thanks because I told our guys you battled, and you showed some mettle in an obviously super-charged environment. We will learn from it and we will grow, there were a lot of good things and some things that we have to adjust," Bennett said.
– Story by Chris Graham