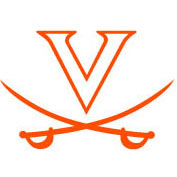 Three third-quarter Virginia turnovers turned into 17 Ball State points, and allowed the Cardinals to pull off a 48-27 upset in Charlottesville on Saturday.
UVa. (2-3, 0-1 ACC) led 17-7 in the second quarter on a 27-yard QB keeper by David Watford, but Ball State (5-1, 2-0 MAC) rallied to tie the game at the half on a Scott Secor 12-yard field goal and a Willie Snead 11-yard TD reception.
Ball State took the lead in the third after the first of the three UVa. turnovers, a fumble by running back Kevin Parks at the UVa. 35. Quarterback Keith Wenning scored on a sneak from 1 yard out to make it 24-17 Ball State.
Virginia tied the score on a Parks 2-yard TD run before the Cards took the lead for good on a Jahwan Edwards 32-yard run after a Watford interception.
The two teams traded field goals, with an Alec Vozenilek 38-yarder making it 34-27 Ball State.
On the Cardinals' next possession, Wenning connected with Jordan Williams on a 72-yard scoring pass to extend the lead to two scores.
Edwards capped the scoring with a 17-yard run at the 5:15 mark of the fourth quarter.
A week after limiting a high-powered Pitt offense to 199 total offensive yards in a 14-3 ACC road loss, the Virginia D could do little to even slow down Ball State, which gained 256 yards of offense by halftime and finished the game with 506 yards on offense.
Game Notes: Watford was 21-for-36 passing for 209 yards and an interception, and ran 11 times for 47 yards and a touchdown. Parks ran for 104 yards on 16 carries with two TDs. … Edwards ran 24 times for 155 yards and three TDs. Wenning was 23-for-41 passing for 346 yards and two TDs. Williams (159 yards on nine catches) and Snead (104 yards on six catches) both broke the century mark in receiving yards for Ball State.