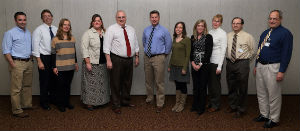 Augusta Medical Group, the employed medical practice of more than 70 physicians, physician assistants and nurse practitioners at Augusta Health, announced its 2014 Clinical Excellence Award recipients.  The awards are given annually to the Augusta Medical Group providers who exemplify the highest level of patient-centered care and quality.  The awards reflect Augusta Health's commitment to their values of clinical excellence and community-centered care.
All providers who are members of Augusta Medical Group are considered for the recognition, and the recipients are chosen after a rigorous selection process that included review of patient satisfaction scores and quality indicators.
"Over the past year, all those in Augusta Medical Group provided great care to their patients.  That made it very difficult to choose those who were recognized because of the closeness of the patient satisfaction scores and the high quality within the group," said George Jirak, MD, President of the Augusta Medical Group."
The 2014 Clinical Excellence Award recipients were:
Hospitalist Awards:
Physician:  Rob Szeles, MD
Mid-level:   Matthew Hoy, PA
Specialty Physician Awards:
David Krieger, DO, Occupational Health
Allison Baroco, MD, Infectious Disease
Primary Care Physician Awards:
Barbara Paszkowiak, MD, Fishersville Internal Medicine
Colleen Arnold, MD, Lexington Primary Care
Primary Care Mid-Level Award:
Allison Chupp, CNP, Churchville Family Practice
Specialty Care Med-Level Award:
Katie Hall, PA, Endocrinology
The President's Award is given to the top Physician and Mid-Level provider within Augusta Medical Group.  This year, two mid-level providers were recognized because they had the same scores.
President's Award for Exceptional Clinical Excellence:
David Caulkins, MD, Wound Care
Sara Hawken, ANP, Dermatology
Joe Surratt, AGACNP, Gastroenterology
Augusta Medical Group is the employed medical practice at Augusta Health, an independent, nonprofit community hospital whose mission is to promote the health and well-being of our community through access to excellent care.  Named one of the 100 Top Hospitals in America by Thomson Reuters in both 2011 and 2012, Augusta Health has also been nationally recognized by HealthGrades as one of America's 100 Best Hospitals for clinical excellence and patient safety for the last three consecutive years.  For information about Augusta Medical Group, please visit the website, www.augustahealth.com/amg.  For more information about Augusta Health, its programs or its services, please contact public relations at 540.245.7329 or 540.221.7329, or visit our website, www.augustahealth.com.