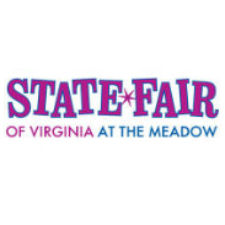 A benefit livestock auction, an agriculture-themed magic show, tractor pulls and farm animal exhibits are among ag-related elements of the 2015 State Fair of Virginia.
The Fair will run from Sept. 25 through Oct. 4 at The Meadow Event Park in Caroline County.
After the annual 4-H and FFA livestock shows conclude, grand and reserve champion market steers, hogs, lambs and goats will be auctioned at the Oct. 3 Youth Livestock Sale of Champions. The sale will support the fair's long-standing commitment to the hundreds of youth who compete for scholarship money through the State Fair Youth Scholarship Program.
In addition to the livestock shows and sale, agriculture will be featured in several grounds attractions. The Agricadabra Show uses comedy and magic to teach fairgoers about Virginia agriculture.
"This is the perfect way to blend agriculture education with entertainment," said Greg Hicks, vice president of communications for Virginia Farm Bureau Federation, which owns The Meadow Event Park. "We know children will love the show, but there are probably lots of adults who will enjoy it as well. And everyone will learn something about agriculture."
In the Thrill Pit, tractors will be performing their own brand of magic as the tractor pull returns. In this motorsports competition, owners modify traditional farm equipment, creating multi-engined forces to be reckoned with. The tractors are used to pull heavy sleds along a track until the most powerful machine wins.
In the Young MacDonald's Farm tent, sponsored by Farm Credit, fairgoers will see a sow with a litter of piglets, various breeds of cows with their calves, goats, alpacas, hatching chicks and the iconic duck slide. Six times a day, the SouthLand Dairy Farmers milking parlor will give guests an opportunity to milk a cow while learning about the dairy industry.
Fairgoers also will be able to see a growing vegetable garden as well as Virginia field crops. They can learn the difference between feed corn and sweet corn; learn about milo in the field; and learn how to create their own urban garden spaces.