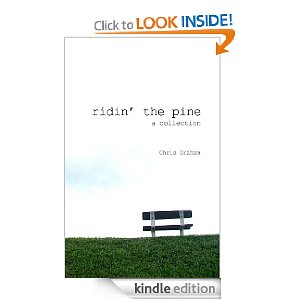 Augusta Free Press editor Chris Graham's fourth book, Ridin' the Pine, a collection of literary short stories, is also the first ebook from Augusta Free Press LLC.
Ridin' the Pine features three short stories from Graham, the author of Judge Not, a political thriller, and Stop the Presses, a collection of humor columns, and the co-author of Mad About U: Four Decades of Basketball at University Hall, a book chronicling the history of University of Virginia men's and women's basketball.
The stories in Ridin' the Pine include a tale of a little-league baseball game, a young romance gone up in flames on a night at the park and the humorous story of a self-absorbed newspaper columnist's interaction with a crazed fan.
Ridin' the Pine download at Amazon.com: Click here.
"Telling stories is the heart of what I do on a daily basis," said Graham, the president of Augusta Free Press LLC, a marketing and public-relations, publishing and web- and graphic-design firm based in Waynesboro.
Graham has won 17 awards from the Virginia Press Association for his work in journalism, covering topics including investigative reporting, business and financial writing and government and public affairs writing.
"Ridin' the Pine is a little more fun, if you want to say," he said of the stories in his latest book, which come from a bigger collection of short stories that he has been writing in his spare time dating back to college.
The story of the little-league baseball game included in Ridin' the Pine, for instance, was adapted from an original submission for a college writing class. And the tale of the column writer and his crazed fan is based on a series of pieces that he wrote as a columnist at The News Virginian in 1998.
"This ebook is a nice blend of the old and the new," said Crystal Graham, the vice president of Augusta Free Press LLC, and the editor in the company's book division who has overseen the publication of titles including A Season in the Valley, a book on Valley League baseball by author Austin Gisriel, Friday Night Reunion, a book on local high-school football by author and radio broadcaster Jim Bresnahan, and Adventures in Warnerland, a book on Virginia politics by author Steven Sisson.
"We're excited to be making the move into epublishing with this book, and think epublishing offers our family of regional authors a great new option for getting themselves out to their audience without having to incur the expense of traditional publishing," said Graham.
Crystal Graham noted that the company plans to release additional ebook titles in 2012, including an upcoming novel and a book on marketing in the new media age.
More information on books from Augusta Free Press is available online at www.AugustaFreePress.com/book-shelf.