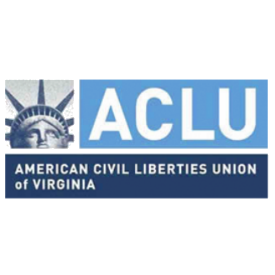 The ACLU of Virginia's new, free smart phone app – titled Mobile Justice VA – gives users new power to document law enforcement situations for review by ACLU attorneys.
"Mobile Justice puts in the hands of the public the power of technology that law enforcement already uses," said Claire Guthrie Gastañaga, executive director of ACLU-VA. "We refer to it as 'the people's body-cam'. Every citizen who has a smart phone should equip themselves today with this important accountability tool." Mobile Justice VA can be downloaded free through Apple's App Store and Google Play in both English and Spanish. It enables users to record, witness and report interactions with law enforcement. Videos will be sent directly to ACLU-VA, eliminating the possibility of losing them if the user's phone is later seized or destroyed. It also includes information on individual rights.
RECORD – allows individuals to capture exchanges between police officers and themselves or other community members in video files that are automatically emailed to the ACLU-VA.
WITNESS – gives individuals the option to alert nearby Mobile Justice application users when they are stopped by police in order to witness and document the interaction.
REPORT – gives individuals the option to provide a more detailed account of their interactions with police in an incident report, which will be transmitted directly to the ACLU-VA.
KNOW YOUR RIGHTS – provides an overview of individual rights when encountering law enforcement.
While Mobile Justice VA is primarily intended for use by bystanders, the ACLU-VA recognizes that some users may want to use it while they are involved in police encounters. Anyone interacting with law enforcement should announce that they are reaching for a phone, and that they are attempting to access the app to record the exchange. Users' safety depends on their ability to communicate clearly any actions they take and remain calm. Bystanders should take care that their activities do not interfere with the police.
The ACLU-VA provides "Know Your Rights" training on basic rights related to interactions with law enforcement. It encourages educational institutions, organizations, and others to contact the organization to arrange a training session.
More information about Mobile Justice VA, including a video, FAQ, and brief overview of how to use the app, is available at: www.acluva.org/mobile-justice.