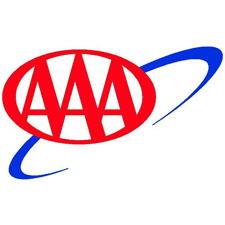 Gas prices are falling at the fastest rate since January due to cheaper crude oil costs and the resolution of some refinery issues. Today's national average price for regular unleaded gasoline is $2.60 per gallon, down five cents in the last week and down 16 cents versus one month ago.
Today's national average is a savings of 88 cents per gallon compared to this date last year and 20 cents per gallon lower than the 2015 peak price of $2.80 (June 15).
Prices are expected to move lower leading up to the Labor Day holiday, barring any unexpected spikes in the price of global crude oil or unexpected disruptions to domestic production.
"The summer slide continues at the gas pump, which is welcome news for motorists as the busy summer driving season rolls on," said Martha Meade, Manager of Public and Government Affairs for AAA Mid-Atlantic.  "As summer vacations continue through August, gas price savings should make these trips more affordable."
CURRENT AND PAST GAS PRICE AVERAGES
Regular Unleaded Gasoline (*indicates record high)
Today
8/9/15

Week Ago
8/02/15

Year Ago
8/09/14

National

$2.60

$2.65

$3.48

Virginia

$2.39

$2.45

$3.26

Charlottesville

$2.31

$2.40

$3.18

Norfolk Area

$2.42

$2.49

$3.34

Richmond

$2.38

$2.43

$3.20

Roanoke

$2.

$2.38

$3.

Crude Oil

$43.75
per barrel
(Friday 8/07/15 close)

$47.12
per barrel
(Friday 7/31/15 close)

$97.34
per barrel
(8/07/14)
The global price of crude oil continues to sink on expectations that the market will remain oversupplied in the near term. At the close of Friday's formal trading on the NYMEX, WTI closed at $43.75 per barrel.
Even though crude prices are half their value (as compared to last year), production levels remain a million barrels per day higher than a year ago and U.S. gasoline producers are cranking out high volumes of product. Most refiners have cited solid gasoline demand and some have hinted at difficulty maintaining supplies, indicating a fairly well-balanced supply/demand market.
The Energy Information Administration (EIA) noted in its weekly report –
Gasoline production increased last week, averaging 10.0 million barrels per day.
Total motor gasoline inventories increased by 0.8 million barrels last week to 216.7 million barrels, and are in the middle of the average range.
Down 4.4 million barrels to 455.3 million barrels, U.S. crude oil inventories remain near levels not seen for this time of year in at least the last 80 years.
Gasoline demand rose 348,000 barrels per day (bpd) on the week to 9.687 million bpd.
Gas prices should continue dropping to catch up with the recent decline in the cost of crude oil. All things being equal, a $12 decline in crude oil costs could reduce gas prices by as much as 29 cents per gallon. Given that prices have already dropped about 20 cents per gallon since reaching a 2015 high in June, drivers could see prices drop another 15 cents per gallon in the near term if oil remains stable and refineries operate at current production levels. Gas prices could drop even further if oil continues to fall and gasoline supplies grow larger this month.