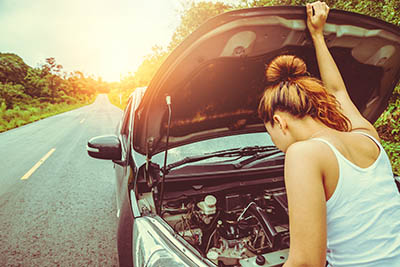 Even though Labor Day weekend signals the unofficial end of summer, it's not too late to make sure your vehicle is road-ready if you haven't done so already. AAA recommends a full vehicle inspection.
"It's important that drivers remember that their vehicle can break down just as easily over Labor Day weekend as it can at any time of year and that they take every precaution to ensure that their cars are road ready," said Dean.
Ten car care tips from AAA
Check tire pressure of all tires – don't forget to check the spare – if you have one
Check tire tread – Exchange.AAA.com offers a simple visual check using a penny or a quarter
Check to make sure your battery is in good working order (most batteries last 3-5 years); a AAA Approved Repair facility will do this for free
Check air conditioning
Check windshield wipers to make sure they are in good working order
Check fluids
Check headlights for functionality and clean lenses
Make sure your cell phone is fully charged so you can call for help if needed
Make sure your AAA membership is up to date
Stock a summer emergency kit with jumper cables, tools, first aid supplies, flashlight with fresh batteries, road flare or reflective triangle, extra medications, snacks, water
"AAA reminds all holiday weekend travelers that increased traffic means an increase in the chance for crashes. Plan ahead. Travel during off-peak times.  Obey the rules of the road. Your safety and the safety of all road users depends on it," said Morgan Dean, manager of public and government affairs for AAA Mid-Atlantic in Virginia.