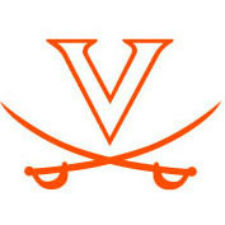 The No. 9 UVa. women's lacrosse team (1-2) earned its first victory of the season, defeating Richmond (1-2) 18-9 on Wednesday (Feb. 19) at University Hall Turf Field in Charlottesville.
Junior Courtney Swan (Vero Beach, Fla.) had a career-high six points with five goals and an assist while also winning five draw controls. Senior Liza Blue (Butler, Md.) had her second four-goal performance of the season while also adding an assist, three ground balls and a draw control. Eight additional Virginia players also scored goals, including junior Caroline Seats (Baltimore, Md.) and sophomore Mary Alati (Glen Ridge, N.J.) who each scored the first goal of their collegiate careers.
"I think Richmond made us work really hard for that win," said Virginia head coach Julie Myers. "The coaches and I kept saying on the sideline that it felt like a two-goal game, though we were up by much more than that. But it felt great to get the win as 0-2 is not a spot we have ever been in before. To get one here, was pretty nice. I think we have lots of momentum to build on."
Blue posted a hat trick in the first 12 minutes of the game, spotting Virginia to a 3-1 lead. The Spiders pulled to within one, 3-2, on a free position goal with 16:02 left in the first half, but the Cavaliers scored three-straight, capped by Alati's unassisted score with 11:08 remaining in the half.
After Richmond pulled to within two, 6-4, the Cavaliers again scored three unanswered goals. Virginia extended their lead to 11-5 on Blue's fourth goal, scored with 35 seconds remaining in the half. The Spiders' Janie Penney scored with two seconds remaining in the period to send the game into the break at 11-6.
Junior Casey Bocklet (South Salem, N.Y.) started the second half by scoring a goal in the first 30 seconds. The Cavaliers only allowed three Richmond goals in the second half, with two of those coming in the final 1:05 of play.
"We have been working hard on our front-side defense, just putting pressure on all-ball and shutting down some adjacents," Myers said. "I think Richmond probably should have taken us a little bit more. They passed the ball a little too often, but that certainly played into our favor when we were playing defense. It is always nice to hold an attack to a few goals in a half."
Senior goalkeeper Liz Colgan (Cockeysville, Md.) logged 11 saves as did Richmond's Emily Boyce.
Virginia outshot Richmond 35-29 and edged the Spiders 15-13 in draw controls.
The game was originally scheduled to be played at Klöckner Stadium. However, for the second game in a row, adverse field conditions caused the game may be moved to University Hall Turf Field.
Virginia will face its second top-five-ranked opponent of the season when the Cavaliers host No. 2 Syracuse on Sunday, Feb. 23 at 1 p.m. at Klöckner Stadium in the first meeting of the two teams as conference opponents.
Single-game reserved seats are available for all women's home games for $7. Single-game general admission adult tickets for women's home games are $5, while youth (18 and under), seniors (60 and over), and UVa faculty and staff tickets are $4 each.