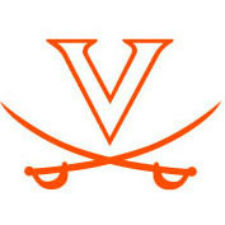 The No. 6 UVA field hockey team (1-2) lost its second-straight game against a ranked opponent, falling 4-3 at No. 20 Iowa (2-1) on Thursday (Sept. 4).
After trailing 3-1 at halftime, Virginia was down by a single goal in the final minute of the game. The Cavaliers had a chance to tie when they were awarded a penalty corner with 44 seconds remaining, but the Iowa defense held off the attack to give the Hawkeyes the upset-victory.
Sophomore Caleigh Foust (Bryn Mawr, Pa.) scored a pair of goals for Virginia. Sophomore Riley Tata (Virginia Beach, Va.) had a goal and an assist. Iowa's Natalie Cafone scored three goals, including the game-winner.
"It was a hard-fought game from beginning to end," said Virginia head coach Michele Madison. "Iowa was very physical and very tough. We need to learn how to play that kind of game."
Virginia outshot Iowa, 18-12, and had 13 penalty corners opportunities, including nine in the second half. Iowa had three penalty corner chances, all in the second half.
Iowa struck first, taking a 1-0 lead 6:27 into the game. Foust evened the score three minutes later, chipping in a pass from sophomore Lucy Hyams (Whitstable, England). Cafone scored two goals in the first half, including scoring from close range with two minutes left in the period, to put Iowa up 3-1 at the break.
Virginia pulled to within a goal six minutes into the second half when Foust and Tata combined for a score. Ten minutes later, Cafone again gave the Hawkeyes a two-goal advantage with another shot from right in front of the goal. Tata knocked in a pass from sophomore Katie Kelly (Phoenixville, Pa.) with eight minutes remaining in the game, giving the Cavaliers a momentum swing, but UVa did not manage to score the equalizer.
Redshirt sophomore Rebecca Holden (Fishing Creek, N.J.) played the first half in goal and took the loss. Senior Jenny Johnstone (Paisley, Scotland) tended goal in the second half, making three saves and allowing a goal.
The Cavaliers will play their first home game of the 2014 campaign on Sunday, Sept. 7, when they host No. 7 Princeton at 11:30 a.m. at Turf Field. The Princeton game is one of four contests during the regular season that will be streamed online as part of the Cavaliers Live subscription package through VirginiaSports.com. Admission is free for all of Virginia's regular-season home field hockey games.