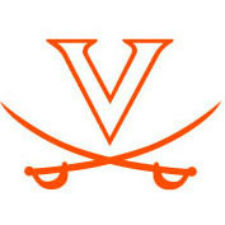 The No. 6 UVA field hockey team (1-1) closes out its season-opening road trip by taking on No. 20 Iowa (1-1) on Thursday, Sept. 4 at 3 p.m. local time (4 p.m. ET) in Iowa City, Iowa.
Virginia will be the third-straight ACC team Iowa has faced this season. The Hawkeyes went 1-1 last week at the ACC/Big Ten Challenge in Chapel Hill, North Carolina, defeating No. 11 Wake Forest, 4-1, in the season opener before falling to No. 2 UNC by the same score on Sunday.
Iowa junior Natalie Cafone, who has a pair of goals this season, was the NCAA statistical champion for points per game in 2013, leading the nation in points per game (2.48). Cafone was named to the NFHCA Division I All-America Second Team, NFHCA West Region All-America First Team, All-Big Ten First Team and the All-Big Ten Tournament Team.
Virginia is 3-2 all-time against Iowa and has won the last three meetings, including a 3-2 victory in the first round of the 2012 NCAA Tournament.
Virginia head coach Michele Madison was an assistant coach at Iowa for seven seasons (1982-89). During that span, the Hawkeyes advanced to the national semifinals four times and captured their only NCAA championship title in 1986. Her mentor, Dr. Christine Grant, is the namesake of Iowa's field hockey pitch.
After a dominant 9-0 opening-day victory at William & Mary in which six different Cavaliers scored goals, Virginia was shut out at No. 8 penn state on Sunday, 3-0. The Nittany Lions and Cavaliers each took 11 shots in the game with sophomore midfielder Lucy Hyams (Whitstable, England) taking seven for UVa.
Hyams leads the squad with five points, scoring two goals with an assist against the Tribe. Sophomore striker Riley Tata (Virginia Beach, Va.) has a perfect 1.000 shooting percentage, scoring two goals on two shots. Freshman striker Liz Stern-Green (Hummelstown, Pa.) scored a goal on her only shot in the William & Mary game.
Other Virginia freshmen also made an impact in the first two games. 2014 Preseason All-ACC midfielder Tara Vittese (Cherry Hill, N.J.) assisted on four of Virginia's nine goals at William & Mary. Midfielder Emilie van Zinnicq Bergmann (Dordrecht, The Netherlands) scored twice during her first game. Midfielder Nadine de Koning (Laren, The Netherlands) had an assist against the Tribe. Back Becca Zamocjin (Phoenixville, Pa.), who started both games, logged a defensive save at penn state.
The Cavaliers will play their first home game of the 2014 campaign on Sunday, Sept. 7, when they host No. 7 Princeton at 11:30 a.m. at Turf Field. The Princeton game is one of four contests during the regular season that will be streamed online as part of the Cavaliers Live subscription package through VirginiaSports.com. Admission is free for all of Virginia's regular-season home field hockey games.