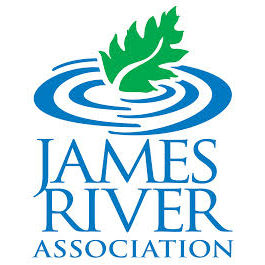 The James River Association, in partnership with Robert E. Lee and Thomas Jefferson Soil and Water Conservation Districts, will be planting 3,000 native tree seedlings at eight farms in Albemarle, Amherst, and Nelson counties this spring with volunteers as part of the James River Tree-Athlon.
Sediment pollution continues to be a significant and long-standing threat to the water quality of the James River. Through a multi-year grant funded by the National Fish and Wildlife Foundation, the James River Association is working with the Chesapeake Conservancy, and Soil and Water Conservation Districts to reduce sediment in tributaries of the James River through cattle exclusion fencing and restoring riparian buffers, or vegetated areas along waterways, in targeted areas to have the greatest impact. Keeping the James River and its tributaries cow-free, not only reduces sediment and bacteria from entering our waterways, but also keeps cows healthy and safe. A diverse and healthy riparian buffer plays a large role in pollution reduction, stream health, and provide vital wildlife habitat corridors. Many of these farms are installing both of these practices that get us closer to a cleaner James River.
"The James River Association is proud to partner with Virginia Association of Soil and Water Conservation Districts and private landowners to not only improve water quality, but also educate citizens on the importance of trees," said Amber Ellis, Watershed Restoration Manager for the James River Association. "Our goal is to protect the river while connecting people to the land and waterways that make up our watershed. By engaging volunteers in this effort, it gives them a chance to give back to the James and get hands on experience in restoring our riparian forests. We are so grateful to the volunteers that will getting their hands dirty for a cleaner James."
"I'm excited to be partnering with the James River Association and Robert E. Lee Soil and Water Conservation District to support the health and diversity of my stream using plants that are locally appropriate and native to this site," said Robert Ferrell, property owner in Amherst County. "Since much of the stream is seen from the road, people can easily watch the effect this project will have on the water, the plant communities, and wildlife. Hopefully folks will see or experience something that they will want to do where they live."
Volunteers are needed to help plant the tree seedlings at various locations throughout March and April. No previous experience is necessary. All tools and instruction will be provided.
The James River Association will host a thank you event for volunteers at James River Adventures in Amherst County on May 19th. This fun day on the river will include lunch and a paddle or tubing trip. Each volunteer that participates in a tree planting day will receive one voucher for a free river trip to be used at the event or on a later date.
Volunteers can sign up by visiting www.jrava.org/james-river-tree-athlon.