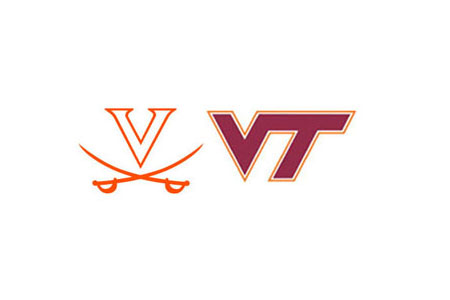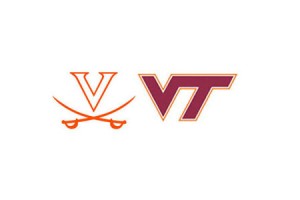 The No. 15 UVa. women's lacrosse team (9-7, 3-4 ACC) closed out the 2014 regular season with a 17-12 victory at Virginia Tech (7-8, 0-6 ACC).
After trailing 3-1 ten minutes into the game, the Cavaliers went on an 8-1 run, which included scoring three goals in a span of 32 seconds, to take a 9-4 lead with 3:42 left in the first half. Tech scored a goal with 18 seconds remaining before halftime to go into the break down four. The Cavaliers scored the first three goals of the second half to take an 11-5 lead with 25:21 remaining. The Cavaliers built the lead to 17-9 on a goal by freshman Kelly Reese (Severna Park, Md.) with 5:19 remaining. Tech scored the final three goals of the game to narrow the final deficit to five.
Junior Courtney Swan (Vero Beach, Fla.) had her second eight-point game of the season, scoring five goals with three assists. Sophomore Kelly Boyd (Baltimore, Md.) scored three goals with an assist. Senior Liza Blue (Butler, Md.) also scored a hat trick.
Senior goalkeeper Liz Colgan (Cockeysville, Md.) had her fourth-straight game with double-digit saves, stopping 10 shots, with eight of those coming in the second half.
Junior Morgan Stephens (Olney Md.) caused three turnovers and picked up a pair of ground balls. Sophomore Mary Alati (Glen Ridge, N.J.) won five draw controls.
Megan Will, Meg Bartley and Julia Heaps scored three goals apiece for the Hokies. Meagh Graham logged six saves.
"We are excited to come through this stretch with another win under our belts going into ACC's," said Virginia head coach Julie Myers. "We have done everything we could do. We are excited to see what the standings bring and who our next opponent will be. To beat Tech on the road after a long, tough stretch and be able to get everyone some playing time in that process is exactly what our team needed. We are looking forward to our next challenge."
Virginia outshot the Hokies 17-9 in the first half but Virginia Tech held an 18-11 edge in the second half. Virginia had a 17-14 edge in draw controls. The Cavaliers committed seven turnovers in the second half with the Hokies committing two.
The Cavaliers open up postseason play at the 2014 Atlantic Coast Conference Women's Lacrosse Championship, being held Alumni Stadium at Boston College in Chestnut Hill, Mass. First-round action begins on Thursday, April 24. ACC Tournament brackets and match-ups will be released on Saturday, April 19th sometime after the completion of the 3 p.m. game between Notre Dame and Syracuse.