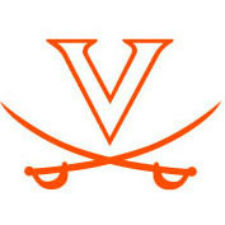 Behind six strong innings from starting pitcher Nathan Kirby (So., Midlothian, Va.), the No. 1 -ranked UVa. baseball team defeated Monmouth, 6-3, Saturday afternoon in the first game of a three-game weekend series at Davenport Field. Virginia improved to 7-2 on the year, while Monmouth dropped to 1-3.
Kirby (3-0) gave up an unearned run, four hits and a walk while striking out five in earning the win. Connor Jones (Fr., Chesapeake, Va.) induced a game-ending double play to pick up his first career save. In his first appearance of the season, Austin Young (Sr., Mechanicsburg, Va.) tossed two scoreless innings out of the bullpen for the Cavaliers.
Monmouth starter Andrew McGee (1-1) took the loss after allowing five earned runs, six hits and four walks in four innings. He struck out one.
Mike Papi (Jr., Tunkhannock, Pa.) reached base in all five of his plate appearances for UVa, going 2-for-2 with a pair of walks as well as a hit by pitch. Nate Irving (Jr., Yonkers, N.Y.) hit a three-run home run, while Daniel Pinero (Fr., Toronto, Ontario) and Branden Cogswell (Jr., Ballston Lake, N.Y.) each added a pair of hits.
Virginia wasted no time in grabbing an early lead in the first inning. Papi and Cogswell hit consecutive singles to start the inning and both moved up on a Derek Fisher (Jr., Rexmont, Pa.) groundout. Papi came home on a slow grounder to third base from Brandon Downes (Jr., South Plainfield, N.J.).
The Cavaliers stretched their lead to 4-0 in the third inning. After Downes singled and Joe McCarthy (So., Scranton, Pa.) walked with one out, Irving cranked a three-run home run to left field with two outs for his first career long ball.
Monmouth took advantage of a pair of Virginia miscues to score a run in the fourth inning. A two-out error extended the inning and loaded the bases for Monmouth, and a throwing error by Pinero on a grounder by Kyle Perry allowed Jake Gronsky to score, although Papi took the carom off the brick wall and fired a strike home to nail Jon Guida at the plate.
UVa countered with a run in its half of the fourth as Pinero lined a double down the left-field line and scored on a Papi single to right-center. The Cavaliers added a run in the fifth inning when Pinero stroked a two-out single to bring home Nick Howard (Jr., Olney, Md.), who singled to lead off the frame.
Monmouth made things interesting with a pair of runs in the ninth inning on back-to-back RBI singles from pinch hitters Cary Jacobson and Grant Lamberton with one out, but Jones rebounded to get Joe Bamford to hit into a 6-4-3 double play to clinch the win.
The teams will finish the series with a doubleheader Sunday beginning at noon. Tickets from the originally scheduled Friday game will be valid for the second game of the doubleheader on Sunday. The tickets for the Sunday Virginia-Monmouth game will be valid for the first game of Sunday's doubleheader beginning at noon.
Fans with tickets for the games on Friday and Sunday may exchange their tickets in advance for a General Admission ticket to any other regular-season game by calling the Virginia Athletics Ticket Office at (800) 542-8821 during regular business hours, Monday through Friday, 9 a.m. to 5 p.m., or bring their ticket stubs to the gate for General Admission seating at any remaining regular-season home game, subject to seat availability at the time of arrival.