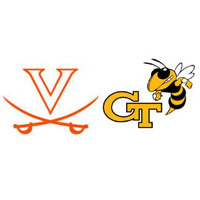 The No. 1-ranked UVa. baseball team completed a three-game series sweep of Georgia Tech with a 3-1 victory Sunday afternoon on Senior Day at Davenport Field. In earning its first sweep over Georgia Tech (29-23, 14-16 ACC) since 2005, Virginia (41-9, 21-6) now has won all nine ACC series this year.
Prior to the game, Virginia recognized its three graduating seniors, Artie Lewicki (Wyckoff, N.J.), Whit Mayberry (Alexandria, Va.) and Austin Young (Mechanicsville, Va.) as well as student manager Taylor Myers (Powhatan, Va).
Daniel Pinero (Fr., Toronto, Ontario), Kenny Towns (Jr., Burke, Va.) and Brandon Downes (Jr., South Plainfield, N.J.) each recorded a pair of hits for Virginia, which finished with 10 hits.
Virginia starting pitcher Brandon Waddell (So., Houston, Texas) tossed seven innings of one-run baseball, giving up five hits and a walk while striking out four. He earned the win and improved to 7-2 on the year. Waddell has gone at least six innings in each of his last 10 starts, including all nine in conference play.
After Young pitched a perfect eighth inning, Nick Howard (Jr., Olney, Md.) fired a 1-2-3 ninth inning to earn his league-leading 17th save.
Georgia Tech starting pitcher Ben Parr (4-3) worked six innings, allowing two earned runs, eight hits and one walk. He did not record a strikeout.
Virginia used timely two-out hitting to score a pair of runs in the second inning. With two outs and runners on first and second, John La Prise (So., Exton, Pa.) singled to left-center to score Towns, and Downes followed with a single up the middle, bringing in Branden Cogswell (Jr., Ballston Lake, N.Y.).
Georgia Tech shaved a run from the lead in the fifth when Elliott Barzilli swatted a one-out solo home run into the left-field bleachers. It was his second long ball of the year.
Virginia nearly opened the game up in the fifth inning, but left fielder Matt Gonzalez made an outstretched catch of a Towns liner to deep left-center to end the inning and leave the bases loaded.
Georgia Tech threatened to tie the game in the sixth as Daniel Spingola reached third base with one out following a double and sacrifice bunt, but Waddell bounced back to strike out Thomas Smith and A.J. Murray to end the inning.
The Cavaliers scored an insurance run in the seventh inning against reliever Sam Clay, doing all of their damage with two outs. Derek Fisher (Jr., Rexmont, Pa.) beat out an infield single and moved to second when McCarthy walked. Towns then lined a single to right to bring Fisher around to score.
Virginia concludes its regular-season home schedule at 6 p.m. Tuesday (May 13) against VCU. UVa will honor former head coach Dennis Womack at 5:45 Tuesday prior to the game. The Cavaliers complete the regular season Thursday through Saturday (May 15-17) at Wake Forest.