Local
Freedom Food Festival serves up more than $28k to Lexington area non-profits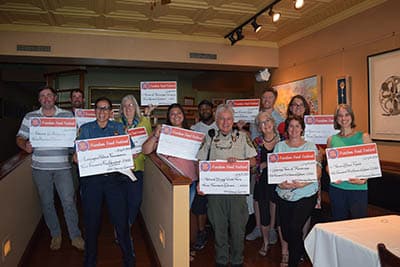 The second annual Freedom Food Festival held on July 3 in downtown Lexington led to $28,200 in distributions to 14 local non-profit organizations.
The Freedom Food Festival is an annual Independence Day themed street festival featuring picnic fare and live entertainment and a cook-off with celebrity chefs. The event aims to raise funds for local non-profits.
More than 800 advance tickets were purchased online by attendees from six states. Nearly 1,000 additional tickets were purchased the day of the event.
The non-profit organizations receiving funding were:
Boxerwood Education Association
Friends of Natural Bridge State Park
Rockbridge County High School Golf Team
Rockbridge Area Transportation Services
Lexington Police Foundation
The Community Table of Rockbridge
Yellow Brick Road Early Learning Center
Hull's Angels, Inc.
Friends of Rockbridge Swimming, Inc.
Rockbridge Area Habitat for Humanity
Team Na-Na Sports
Chamber of Commerce
Main Street Lexington
Lime Kiln
Freedom Food Festival judges were retired servicemen USAR Lt. Col. Jake Wilson, USN Cmdr. Richard Hastings, and USMC Cpl. Clyde Mull. Together they chose the Backyard BBQ Bowl-Pulled Whole Hog meal featuring Devils Backbone Brewing Company's Juicy Magic IPA Spiked Watermelon Ball as the winner of this year's Freedom Food Festival Spoon.
"Rockbridge Area Transportation System was so fortunate to be partnered with the amazing team at Devils Backbone. Their creativity far exceeded anything I could imagine," said Michelle Watkins, executive director of Rockbridge Area Transportation System.
RATS and Devils Backbone Brewing Company were among seven teams of celebrity chefs paired with non-profit organizations to participate in the cook-off portion of the Freedom Food Festival.
Serving as celebrity chefs for Freedom Food Festival were:
Laurie Macrae and Southern Inn Restaurant
Jim Jones and C.H.E.F.S. Catering Co.
David Miller and C.H.E.F.S. Catering Co.
Michelle Watkins and Devils Backbone Brewing Company
Lexington Police Chief Angela Green and Sweet Treats Bakery
David Faulds and The Community Table
Misty Camden and Lexington Golf & Country Club
A People's Choice Award was bestowed upon the Rockbridge County High School golf team and John Stallard of C.H.E.F.S. Catering Co.
Coach David Miller believes the team enjoyed the festival, stating, it's "always fun to do team building activities and when food, music and fun is involved it makes for a great day. Winning the People's Choice award was icing on the cake."
Russell Orrison of Perkins & Orrison, Inc., one of the event sponsors, found the festival to be "absolutely great," expounding, "seeing old and new friends, the term 'old home day' has never been more appropriate. We were once again reminded of why we love to be in this place, with these people."