Local
Blacksburg Cube Fest 2022 to celebrate Afrofuturist artists Aug. 19-21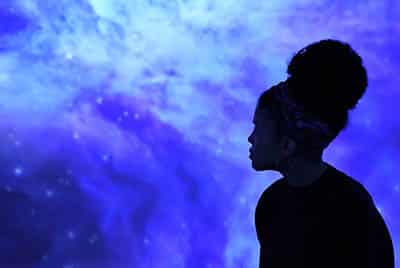 Presenting the latest innovations in sound and musical composition, Virginia Tech's immersive music festival offers a sonic adventure that can only be properly experienced in one place in the entire world – the Cube.
Cube Fest 2022 is a series of concerts featuring music that moves around, above, and through the listener. Impossible to re-create at home listening on a stereo system or with headphones, these works were created specifically for the Cube's world-leading audio system, complete with over 140 loudspeakers.
This year's Cube Fest celebrates immersive Afrofuturist music with works from leading artists selected from an international pool of submissions.
Presented by the Institute for Creativity, Arts, and Technology and the Moss Arts Center, the festival runs from Friday, Aug. 19, through Sunday, Aug. 21, with events taking place in the Cube and Perform Studio, located in the Moss Arts Center at 190 Alumni Mall in Blacksburg.
An ideology examining the past and the future through a Black cultural lens, Afrofuturism connects African diaspora culture with science and technology.
Cube Fest 2022 features works by Afrofuturist artists Jupiter Blue, King Britt, Yvette Janine Jackson, and Sea Novaa, and includes an evening-long concert, "The Other Wakanda," presented by Stephen James Taylor.
A special Cube event puts the spotlight on Virginia Tech student musicians, showcasing new spatial hip-hop music created by members of Virginia Tech Digging in the Crates, the university's student-led hip-hop studies program, while the keynote talk, "You Haven't Met the Captain of the Spaceship … Yet," delivered by Thomas Stanley of George Mason University, will precede a spatialized experience of the influential Afrofuturist album "Space Is the Place" by visionary composer and Afrofuturism pioneer Sun Ra.
All of the works featured in the "Sounds in Focus" and "Sounds Cubed" concerts are designed for an immersive listening experience. "Sounds Cubed" concerts are created to be experienced in the vast sonic environment of the Cube, while the "Sounds in Focus" concerts benefit from the more intimate and concentrated immersive sound setting of the Perform Studio.
Since its inception in 2016, Cube Fest has invited artists from all over the world to share their sound- and space-focused artistic creations in collaboration with audio technologists at Virginia Tech.
"Given this natural affinity between Afrofuturism and the aesthetic research objectives of the Cube, we have invited Afrofuturist artists to share their spatial/musical visions, creating experiences that are possible only on high-density loudspeaker arrays, going well beyond what is currently achievable on stereo sound systems or headphones in terms of spatial richness, presence, complexity, and depth," said Tyechia Thompson, assistant professor in the Department of English at Virginia Tech and Cube Fest artistic co-director.
The Cube Fest 2022 schedule and ticket information is available on the Moss Arts Center website.
Friday, Aug. 19
Digging in the Crates: "The Sankofa Tape" (fixed)
Cube
5 p.m.
$10; free for current Virginia Tech students
"The Other Wakanda" (fixed)
Stephen James Taylor
Cube
7 p.m.
$10; free for current Virginia Tech students
Saturday, Aug. 20
"Sounds in Focus I"
Fixed works by Dexter van der Schyff, Roxanne Turotte, Ryne Siesky, João Pedro Oliveira, and Simon Le Boggit
Perform Studio
3 p.m.
Free
"Sounds Cubed I"
Jupiter Blue and Sea Novaa (live) and fixed works by Yvette Janine Jackson and King Britt
Cube
7 p.m.
$10; free for current Virginia Tech students
Sunday, Aug. 21
Keynote: "You Haven't Met the Captain of the Spaceship … Yet"
Thomas Stanley
Perform Studio
1 p.m.
Free
"Sounds in Focus II"
Fixed works by Barry Truax, John Young, and Lidia Zielinska
Perform Studio
3 p.m.
Free
"Sounds Cubed II"
Fixed works by James Bagshaw, Christophe Lengelé, Nikos Stavropoulos, Orestis Karamanlis, Chris Coleman, and Philippe-Aubert Gauthier
Cube
7 p.m.
$10; free for current Virginia Tech students
"Listening Lounge"
Spatialization of Sun Ra's "Space Is the Place"
Cube
9 p.m.
$10; free for current Virginia Tech students