Sports
Are local county fairs welcoming to Democrats? Not so much around here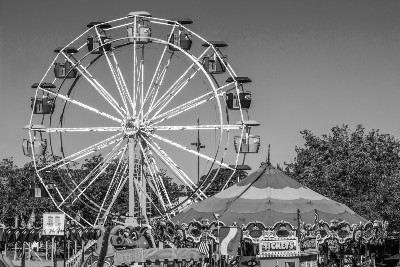 Last week's controversy with a Confederate flag display at the Augusta County Fair reminded me of my last visit to the Rockingham County Fair back in 2016.
My wife and I were here for the Justin Moore concert, the two of us being the rare liberal Democrats who like country music. We had decent seats in the main section, which unfortunately gave us a better view of a group of idiot teens parading back and forth in front of us with an oversized Trump 2016 flag, and hurling misogynistic insults aimed at Hillary Clinton and Democrats in general.
I mean, I get it, our part of the world was MAGA country before being MAGA country was cool, such as it is. Augusta and Rockingham routinely give Republican candidates 75-plus percent of the vote in elections. Glenn Youngkin's upset win in last year's governor race was possible in part because he did that even better, pushing past 80 percent out this way.
Being a Democrat in the Shenandoah Valley isn't easy. My nightly neighborhood walks with the wife take us past three "Don't blame me, I voted for Trump" yard signs, which, hey, while you were out, 1993 called, and George H.W. Bush voters want their bumper sticker slogan back.
Another neighbor had dozens of Trump signs in his front yard in the 2020 cycle that he left up after the election and all the way to, I swear, the afternoon of Jan. 6, 2021.
The next morning, they were mysteriously gone, and the only sign in his yard now is an advertisement for a local roofing company.
The Confederate flag thing last week at the Augusta County Fair was no doubt an oversight. The flags were there to promote a talk by a Richmond schoolteacher on the Civil War, which is innocent enough.
Issue was raised by a handful of folks over the location of the flags, near a main entrance to the fair, which made the display come across as something other than what it was intended to be.
To the Fair's credit, the non-profit's organizers ordered it to be taken down.
I hadn't read the mood of the populace to be all that much up in arms, again, considering the politics in these parts.
Local Democrats and civil rights groups didn't threaten a mass boycott or anything, mainly because there aren't many local Democrats and people who support civil rights to make a difference if one was organized.
My niece wants to go to the Dustin Lynch concert at the Rockingham County later this month, and against my better thinking, we decided to indulge.
I haven't been to either of the local county fairs since the 2016 Justin Moore concert, so, this is a development here.
And I'm not exactly looking forward to the one up in Harrisonburg in a couple of weeks, to be honest.
Maybe I'll engage in a silent protest, like wearing a Black Lives Matter T-shirt, a Barack Obama trucker cap, something like that.
Democrats should be able to enjoy county fairs like everybody else.
Those may be famous last words on my part.