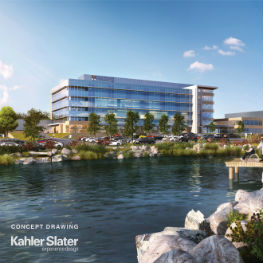 Sheltering Arms Hospital and VCU Health System have announced plans for a new regional rehabilitation hospital in Goochland County.
The new hospital, called Sheltering Arms Rehab Institute – A Joint Venture with VCU Health System — will combine the current inpatient rehabilitation programs of Sheltering Arms and VCU Health to provide comprehensive and innovative physical rehabilitative inpatient care for people who have sustained a stroke, brain injury, spinal cord injury or similar illnesses and injuries.
The 114-bed inpatient rehabilitation facility will be centrally located on an easily accessible 25-acre site in the West Creek Medical Park off Route 288 and Broad St., near the I-64 and I-295 interchanges.
"The Sheltering Arms Rehab Institute will serve as a destination inpatient rehabilitation hospital for patients across the Commonwealth and Mid-Atlantic region," said Mary Zweifel, interim CEO of Sheltering Arms. "It will provide innovative, evidence-based inpatient rehabilitation that integrates the newest technology and most highly trained staff in a facility that supports the whole patient and family as an integral part of the recovery process."
Sheltering Arms Hospital and VCU Health System signed a definitive agreement that created the joint venture in May. In September a letter of intent was filed with the Virginia Department of Health announcing plans to obtain a Certificate of Public Need (COPN). The COPN application will be submitted to the Virginia Department of Health by the end of the month. A decision is expected by early summer 2017.
"This joint venture establishes a state-of-the science teaching hospital to advance clinical education across all the rehabilitation disciplines and to support translational research in the field of rehabilitation that will advance knowledge in the industry and immediately benefit patients," said Marsha Rappley, CEO of VCU Health System and vice president of VCU Health Sciences. Deborah Davis, vice president for clinical services and CEO of VCU Hospitals added, "The realization of this rehabilitation hospital will allow us to provide unparalleled quality care and treatment outcomes for inpatient rehabilitation patients in the central Virginia area and beyond."
As part of the COPN application process, the joint venture is in the process of determining the estimated cost of the facility. The opening of the hospital is expected sometime in 2020, depending on the length of the regulatory approval process and construction.
Sheltering Arms has two hospitals and 11 outpatient centers, as well as community-based programs that include recreational therapy and fitness. VCU Health System treats patients at several area locations, including its facilities at the VCU Medical Center in downtown Richmond, at Stony Point and at the VCU Sports Medicine Clinic adjacent to the Siegel Center.